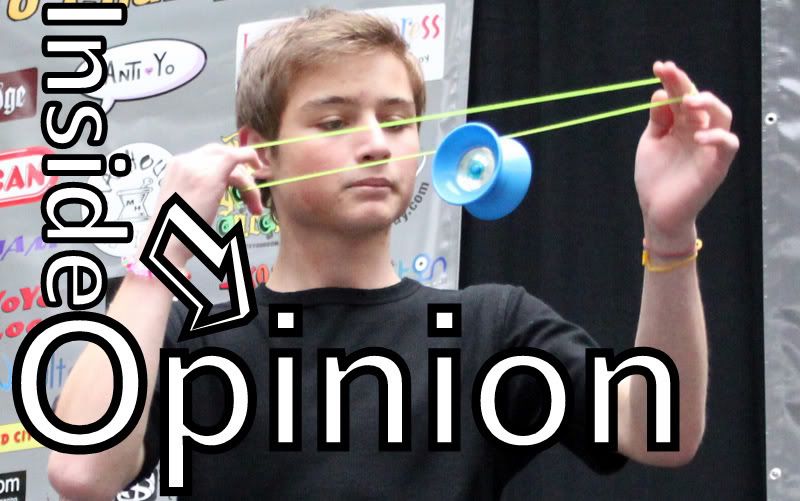 Any opinion presented is Dylan's own and is no way influenced by the YoYoSkills Staff.
"What's Next?"
In previous articles I have talked about the "new generation" and how they were begining to set their sights on taking down some of the old veterans at BAC, and guess what, not only did one player from the new generation emerge victorious over the veterans but two players John Chow and Gentry Stein both took out what was supossed to be an extremely stacked list of players. Words cannot describe how Gentry must feel right now.  I would imagine that cloud nine wouldn't be high enough for him. The kid has done what many said was not possible. Gentry took on the field at BAC and definitely rocked his freestyle. It has become increasingly obvious that the new generation is about to take over at first glance that is. It should not be a surprise though.  The results basically mirrored Cal States minus Jensen.  When the most dominant 1a player isn't even at the contest, it does not go unnoticed, but could BAC Gentry take Cal States Jensen?
Gentry is on a roll and with each passing contest he just keeps getting better and better. Many would say that Gentry proved something by winning BAC but he had beaten most of these guys already.  What stood out more to me was the jump over John Chow.  Gentry was just behind John at Nationals and now he seems to have pulled ahead. We also need to look at Worlds, because Gentry has yet to prove his skill internationally where the field increases in skill ten fold. Along Gentry's road to glory he will have to take out Yuuki, Jensen, Mickey, Christopher Chia, Paul Kerbel and many other players that still hold, in my opinion, a skill gap over him. We also have Sebastion Brock who was not at BAC but could make an appearance at the other Triple Crown events. We may need to wait and see at the East Coast Classic who will rain victorious in the crown series and as the new figurehead for yoyoing. On a side note,  is anyone else excited for Paul Kerbel?  I have heard rumors that he may be coming to the Boston contest along with a handful of other international players.  I cant wait for Boston, it's going to be sick.
Ok, so back to the present topic at hand: BAC was a very great contest had lots of cool people there but now we set our eyes on a new Mid West Classic. I am personally attending this contest myself and am working on setting my freestyle up with a new game plan. Instead of just focusing on my tricks I like the most, I am reverting back to the days where I had success with a little bit more tech in my freestyle than I do now. I have to admit I am behind the game on refreshing my freestyles for points.  This is after all how many players win contest. I know for a fact that Gentry goes on stage not only to impress people but to win contest.  There is a huge difference. I also know that Gentry is taught heavily by Augie as was I just a few years ago. I understand how Gentry's freestyle works.  With what he has put together, he is going to consistently be the highest score on the board. Augie is an amazing teacher and yoyoer (also the only old generation player to top three at BAC). I have to say though Gentry is looking good coming out of BAC and if he attends Mid West Classic he will be the definite front runner. The only thing that he has to be scared of now is players who "No Showed" at BAC.
So that pretty much raps up the outcome of BAC.
In the next few weeks  I am going to be giving talk about the international scene and give my two cents on where everyone is at for the 1a World Title
This includes:
Japan Nationals upset that happend last week.
Are the "No Shows" out or did they just skip BAC?
Does Gentry Stein have what it takes to make it in the international game?
International New Generation players to watch.
and My pick for the Worlds frontrunner.
Check out my freestyle on the weekly round up on yoyoskills.com there is some cool stuff in that freestyle.
Thanks for Reading, please come back next week to see my new article
Dylan
Rebel Yoyos