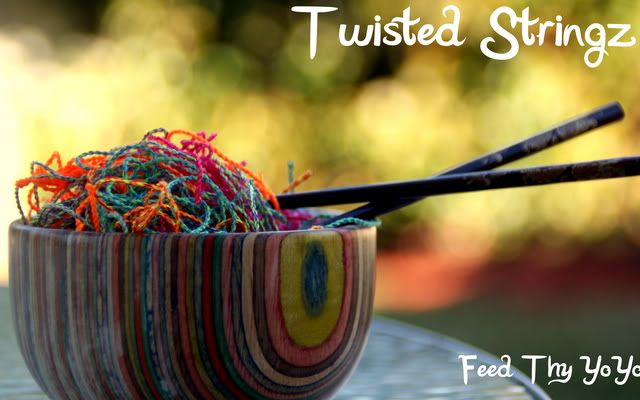 For the last month, I have been working through seven sample bags of Twisted Stringz. These designer strings are hand made in Seattle Washington by Jen Jenn. I am sure you have heard of Twisted Stringz, because everyone is raving about their designs. All are bright, eye catching, and very durable. Here are some thoughts on each type.
Type A – Polyester Nylon: Heavy, and stiff. Big open looks on whips. Great for whips and revolutions.
Type A1 – Polyester Nylon: Heavy, good whips, same benefits as Type A but softer.
Type B – Polyester
Personal favorite in the entire sample batch. Long durability, fresh feel, Heavy weight. Goldilocks of the Twisted String line. Not to rough, not to soft, just right.
Type C – Polyester
All the love and benefits of Type B except thinner and lighter weight.
Type D – Polyester
Really thick, really heavy, really soft, and really fast. Type D has a long string life and decent durability.
Type E – Polyester
The most like a traditional poly. A bit rougher than the rest of the line but holds tension well and lasts longer than traditional poly
Twisted Kevlar Polyester
Heavy heavy heavy string. Rougher than other types but softer than mist Kevlar string. Great for fast play and big whips. A bit rough on the hands. Extra care should be made to maintain tension because it got a little squirrely for me, but most definitely the longest lasting of all available Twisted Stringz types. If you like heavy and rough string, this is your food of choice.
Honestly that is a lot of string formats. 7 formats, all with a different play feel, and at varying whip speeds. My favorite of the bunch is Type B. First off, I dug the colorway. When it comes to strings, the brighter the better. I also love the feel. I am kind of a texture freak. Anything that feels like velvet or satin can die in a fire because it literally makes my fingertips itch. Goldilocks, that is Type B, is wonderful. Just rough enough to have texture, but soft enough to not be sand paper. I am also really impressed with the durability. I have started leaning towards heavy yoyos in my play time and you can shred a cheap string pretty quickly when you go on a regen binge. Type B is my enabler.
You can get Twisted Stringz at a few store fronts or directly from Twisted Stringz via the Facebook Page.