Archive for category Sneak Peeks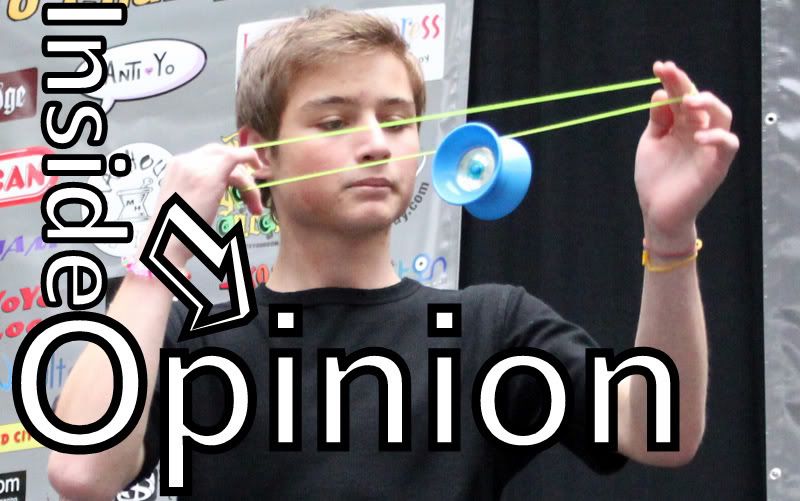 Any opinion presented is Dylan's own and is no way influenced by the YoYoSkills Staff.
"What it means to win BAC"
With BAC just two weeks away, all eyes have focused on the US contest scene to see who will emerge as the National title front runner. 2011 may be the year where the new generation of 1a players finally outmatch and beat the experienced players and veterans like Paul Han and Yuuki Spencer. Lately, there have been doubts heard from other top yoyoers, and from the community who are not ready to let a rookie beat them out. Leading the pack of the new generation is of course Gentry, but also the often overlooked John Chow. John definitely has the skill and hunger this year and has a very unique style allowing him to rack up points and rack them up quickly. Some might say the same about Gentry but I think that while both Gentry and John Chow share the hunger for the 1a title, their play styles are completely different. Gentry's "poppy" style of tech 1a is vastly different from John Chow's complex flowing tech 1a. Gentry has a proven freestyle that gets the point system on his side. He knows what judges react to and how the game works. When He competes, he competes to win. John's tech seems to take more risks, which if ran without a problem could rack up points quicker than Gentry. The two are set to face off at BAC with Gentry coming in fresh off his success at Cal States, defeating a pack of experienced veterans except for the beast that is Jensen Kimmitt. What people forget though is that John Chow beat Gentry at Nationals, only six months prior to Cal States. While sill part of the next generation of 1a yoyers, John has been at the top level longer than Gentry, but Gentry already has shown that he is capable of beating even some of the most experienced players in the world. While these two seem to be the main front runners for the new generation, I see more than just these two being the highlight players to look for. I have seen and heard great things from Augie since Cal States. He has really stepped things up from what have seen in his recent videos and from what he has told me when I talked to him. I think that Cal States showed Augie that he is definitely in the title race this year. If he puts the time and effort in than he should be able to accomplish what he has already done once now more than a half decade ago. I don't think that Augie has ever really been a tech player. I saw his tricks as too high risk or that they just didn't score enough points to keep him in the running for a title, but from what was seen at Cal States this as recently changed. He really has been working on getting some more points into his freestyle. This is mostly evident by his less than practiced Cal States freestyle which took third and his large following that backs him.
Augie may not be the only thing standing in the way of Gentry or John's push toward greatness. The echoes of the seemingly ghost like champions Jensen Kimmitt and Sebastien Brock can still be heard. Even though both had expressed a desire to step away from the contest scene, they came back unexpectedly and took first place at a contest. Jensen, who has proven that he can take any contest, had a clear jump on Gentry at Cal States. If Gentry is going to have any hope of pulling off an upset over Jensen, he is going to have to eliminate those small mistakes that took place all throughout his freestyle at Cal States. One could also point out that seeing Sebby's Virginia state win shows us that he is nowhere close to rusty from his little break from contest yo-yoing, and that if he were to show up to BAC he would pose one of the biggest threats to the entire range contestants. Though I have no clue if either Jensen or Sebby are coming to BAC, it is not impossible. Jensen competed at Cal States so I do not see what would stop him from competing at BAC.
Winning BAC gives you more than a title or a seed to Nationals. Winning BAC starts a following. When you think of BAC title's though you have to bring up Paul Han. With his seven or eight red jackets from back in the day. He is THE MOST dominant player at BAC and he will stay that way until someone comes along and takes seven BAC jackets again. Paul has a huge following, primarily I think because of his BAC accomplishments. He took BAC's 2a division one year on a whim just because he felt like it. Jensen forged a following in 2009 with his BAC win and solidified it in 2010. Augie has taken BAC once and since then, has always had a strong contest showing. Yuuki took BAC twice, once to start his name and once to show that he's still got some fight left in him. This year Gentry and John will battle to be the players that have already concreted their names in the yoyo community and start a dedicated following. A casual yoyoer may not understand what this kind of following does for a yoyoers career. Their name goes from known to well known and the buzz of friends and admirers starts to turn a loud community of yoyoers who are backing that player to win the contest, get a signature yo-yo, or to put out that new video. It gives you respect it makes you untouchable in the community. No one person is able to slander you because you have a FOLLOWING and once you begin to develop a following you begin to get a feeling of support and makes you want to win just a little bit more and it makes you want to show up to those contests with the expectation of winning. The problem though is in the eyes of the yo-yo world, a player is only as good as their last contest. A bad freestyle can change the way that people see you and starts to diminish your following. A wrong choice can also lose following. Fans can start to dislike you just as fast as they began to like you. Almost all top tier players consider this aspect of having a following and you will even see some players who are trying to repair their following because of things said or done. Just like a fan, regrets and bad choices tend to follow you also. That's why some have had to burn bridges with certain companies or people. Cutting off a tie publicly can regain a fallen following. The people who win Nationals or Worlds are the people who are supported by a big name company and have a reputation and following built. You just don't see an unknown yoyoer at that top level.
BAC historically has been the launching point for veterans with legendary following. With Gentry being on the verge of being a big name and same with John, if either of the two take the BAC title it will not only show the world that they are ready for a Worlds or National title, but will also explode their already growing following. Gentry and John both are at the verge of exploding a title win, but just because you deserve something doesn't mean that it is going to be given to you. You have to go out and take what's yours. We are all going to see what will be an "Every man for Themselves Battle Royal" staring a mess of both rookies and the veterans. 2011 looks to be the most competitive years of recent memory. While this could be the year of the new generation, the elite veteran class is not going to give up what they already have without a fight.
Questions to the readers;
What yoyoer do you think has the biggest following?
How do you think the title quest will play out amongst the bright young talent?
And, finally what player do you want to see win BAC this year.
Thanks for reading and please do come back next week to read my article on who I want to win and how I think the contest will break down ranking wise.
Your Trully,
Dylan
Rebel YoYos
Handcandy