---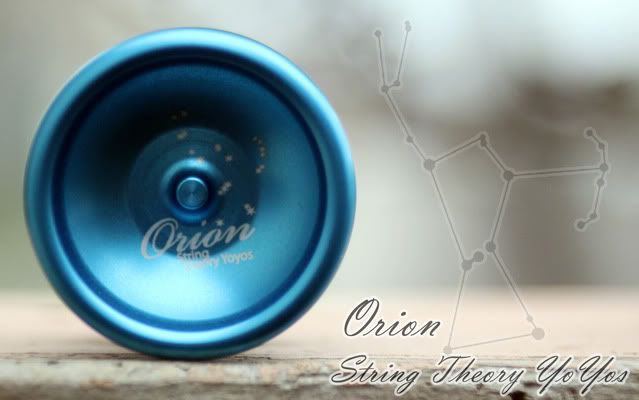 I try to be very careful with my review units.  Sometimes the yo-yo is destined to ship off to another review or back to the manufacturer, so I make a deliberate attempt at not harming the review unit yo-yo companies send to me.  For the yoyos I end up keeping, I like having a nice clean yo-yo for my shelf.  So this week I am running the new String Theory Yo-Yo Orion through my play session and my cat decides that he needs more attention than the yo-yo.  Hs proceeded to wine loudly and do circles through my legs.  Apparently he did not being ignored because he got onto the back of the couch, and launched himself what must have been six feet directly into a Candy Rain combination.  Immediately I went into juggling mode as I maneuver the string configuration past slashing claws and hooked legs.  In the end the cat was in my hands and the yo-yo was bouncing on the slate tile floor.  My cat, now having archived the goal of capturing my attention, decided he didn't really want it and spent the remainder of the day in my daughters lap.  Luckily, this was in the middle of my review week and the "After Cat" play still lined up to the "Before Cat" performance.


Includes:
Brown box adorned with a Orion Sticker
Loose STYY Sticker
Velvet bag
Poly String
Specs:
Diameter:
57.25 mm / 2.25 inches
Width:
43.3 mm / 1.70 inches
Gap Width:
4.75 mm / .18 inches
Weight:
66 grams
Bearing Size:
Size C Stainless Steel Bearing
(.250 x .500 x .187)
Response:
String Theory Response
Construction and Design:
| | | |
| --- | --- | --- |
| Looks Great | Looks Good | Looks Bad |
| Multiple  color options | IRG lip | |
| Options for finish | Standardized C-bearing and response | |
| Logo ties neatly into name and brand | Two step catch zone with one inverse wall | |
| Very "Classy" look | Shape common to Competition yo-yos | |
Perhaps it was just the white on shiny blue color combination, but the engraving on the review unit Orion just did not seem to stand out.  When I looked at the black colorway Orion online, the logo on the side popped out. I think it may just be the colorway but I am a bit bummed because I think having a constellation tied into the name and logo of a yo-yo is a killer idea.  I dig the logo, and would wager that on the beadblast and darker colorways it would be easier to see.  All in all, the Orion has a very classy look to it.  It captured the eye, has attractive art on it, and looks inviting to the touch.  When I took it to yoyo club, everyone wanted to touch it and throw it.
Performance:
| | |
| --- | --- |
| Great! | Not so great… |
| Smooth play | Plays heavier than it is |
| Tilt Control | Tumbled model not "grind" strong |
| Very stability on Regens | May encourage feline attacks |
| Compliments a smooth and steady play style | |
| Open loop rejections | |
| Perfect binds | |
String Theory set out to make a competition yo-yo, and this is a good reflection of that.  I was very pleased with stability especially on a string of regens.  The Orion has a lot going for it.  The "Not so great" column is not even things that are bad, just things that could be better.  The Orion is only 66 grams but has the floatyness of heavier yo-yo.  The review unit has a tumble finish, but beadblasted finishes are available. The tumble finish itself is not terrible for grinds but not great either, but once again, beadblasted finishes are available.  If anything, the options on finish is admirable. What impressed me the most was the Orion's stability on regens. Combo'ing seven regens together with a string of large movement tricks is extremely satisfying.
Final Thoughts:
Overall the Orion is a fantastic player.  I can see its strong playability and stability attracting competitive players.  This is possibly the most reliable yo-yo I have played from String Theory yoyos.   STYY has a history of nice throws.  The Remnant 2 was really strong, and the Bandit had a strong following, but the Orion is the probably the most stable, versatile, and consistent throw String Theory has released.  I loved it. Bonus note: It takes a beating. The cat pounced on my several times this week.
~$100 – Multitude of color and finish options
Written by Chris "Dr Yo-Yo" Allen who waited all week for a clear night to shoot the REAL Orion, but it rained all week
---
---
---