---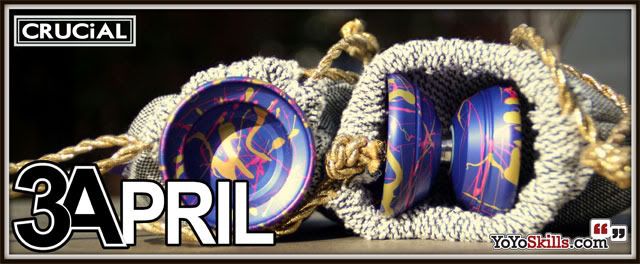 Want to win a pair of brand new, special edition Crucial A La Mode's valued at $200? Do you throw 3A? YoYoSkills.com and Crucial have joined forces to promote the 3A playstyle. Shoot a video 1-3 minutes long, edited, set to music (PG rated please) and you could win! Upload to Youtube or Video with the tag #3(A)pril by Midnight April 30th and link to your video in the original thread comments section. The winner will be chosen and awarded a pair of awesome 3A yoyos.
Rules:
Play Style – 3A Only
Yo-Yos Used – Any brand you want
Video Length – 1-3 minutes
Music – No Profanity or Explicit Language
Title – Your Full Name: #3(A)pril
Logos – Put this in your intro
Upload – to Youtube or Vimeo
Post – In the comment section below
By – Midnight April 30th
Spread the word!  Like and share this post!
---
---