---
Crucial – Cream with Cookies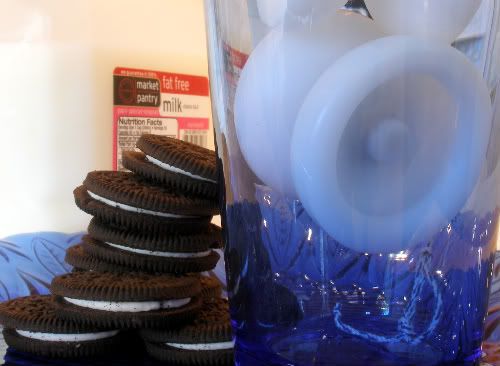 Introductions:
Cream just makes things better. Cream of the crop, coffee with cream, cookies and cream, creamy pesto sauce, cream soda, vintage rock band Cream, cream cheese, whipped cream, cream puffs, ice cream, creamed corn…. Sorry, I went all Bubba on you for a second. The point is, that Cream is synonyms with quality, and in the Milk line by Crucial, this model is most definitely the Cream. I present, the much anticipated, mostly speculated, bound to be imitated, Cream by Crucial (formally Born Crucial).
Diameter: 52.05mm
Width: 42.2 mm
Weight: 65.5 grams
Response: SPR Slicone
Bearing: C Size
Material: Delrin
First Impressions:
Delrin has always been an experimental area for yo-yo manufacturers. Better performance then molded plastic (although Polyoxymethylene plastic, aka delrin, can be molded), nearly identical performance to Metal, and at lower price point, the attraction of delrin is obvious. It is soft and smooth, and hides scrapes better then a metal. There have been many successful models of delrin yoyos, and some equally tragic attempts at the delrin yo-yo. DBYY had the Gung Fu, an undersized throw that found a following with yoyo players. Alchemy had the Silk, which had it's own cult like following. The Lucha Libra by Throw Down came along and proved that, well, delrin may not work with every design. And of course, Born Crucial had the Milk in 2007, and the Milk 2% in 2008, both full size delrin options that set the bar in quality yo-yos made of this material. There have been other entries in this market (RooYo, Rec Rev) but nothing was able to topple the Milk line by Crucial from the top of the hearts of the yoyo masses. When I first heard about the Cream, an undersized version of the Milk, my heart raced. I loved the Milk and even the Milk 2%. The feel of the delrin on grinds and the stability a well tuned Milk provided was just fantastic. Now with the option of a Milk at a size that was quickly becoming an industry standard, I was in yo-yo heaven with anticipation. When Paul finally got one to me, I experienced the rare feeling of having my anticipation and expectations met. The Cream was great. It felt solid in the hand, it had just the right weight and was very easy to keep grip. I could not wait to play it for the week, taking it through my review cycle.
Comfort and Tech:
Paul has outdone himself. He took the winning material and design from his Milk line, incorporated a size larger, but similar to the Project, 888, and 5Star, and redesigned the SPR system to provide better stability and performance. I think that the Cream would still be considered an undersized yo-yo, but on the bigger Wheaties eating side. The Cream, is easily the most comfortable and advanced from the Milk line.
From the inside out, the Cream uses the same axle as most current YoYo Factory yoyos. The axle screws into a (pressed?) threaded bolt that sits flush in a recess. On the old Milk, and Milk 2%, there was an o-ring in this recess which helped grip the SPR and reduce vibration. On the Cream, the recess is flat. The SPR is also thicker, which may be why the Cream does not have o-rings, it might not need them. The SPR Kit that comes stock on the Cream supports flowable silicone and a c size bearing, but Crucial has other SPR kits with other options, like a Sticker recess and if I heard correctly, an A size (Duncan Size) bearing. These SPR kits would be released as add-on accessories.
The delrin body is smooth to the touch and easy to grip. The curved catch area hits the hand nicely and is accompanied by a massive gap. The catch zone opens up to a flat rim, giving you the maximum rim weight. In the side cup area, Paul has changed his sharp IRG seen on the Milk, and smoothed it out. The IRG is deep and has plenty of room for transfers and 360 grinds.
On a Throw:
Smoo—oooo—oooth. Paul admitted that some Creams may need tuning (centering the axle) like the Milk and Milk 2 % did, but the one he sent me had zero vibe or wobble. I have taken this thing apart a dozen times this week, and not a hint of the dreaded Sharper Image massage chair action. The huge gap handles wraps like a holiday elf, while still providing tight binds and a kickback free throw. The undersized Cream seemed to handle direction changing tricks, and transfers with a greater stability than its bulkier brothers. I think I would attribute that to the stellar weight distribution that the Cream has. Hops, pops and gyro flops, the Cream can do it all. The gap assists in catching whips with fierceness, and the Cream triumphs in being exactly where you want it to be, when you want it to be. I also found that it was much easier to transfer in and out of small knot tricks and GT's.
The Creams ability to deliver solid grinds is a huge golden check mark feature. While a smooth surface is of course the nature of delrin, the Cream goes about it a different way. The flat rims are polished, and the catch zone is raw. This gives you the ability to start a finger grind on your hand, hold it, and then shift your hand transferring the grind from the smooth catch zone to the flat rims which have more grip. The effect is crazy cool, and gives you much more control on a grind than you thought was possible.
5a is no different. Slightly larger than an 888 and a 5 Star, I think that 5a players will appreciate how easily the Cream adapts to their style of play. Stability and a tilt free platform is important for 5a tricks, and the Cream delivers this better than a Pizza guy in rich tip town.
Final Thoughts:
I am going on record to say that the Cream is the best yo-yo that Paul Yath / Crucial has ever released. There is only one thing I would change, and it is so simple that Paul could offer it as an upgrade down the road. In the SPR bearing seat, I wish the well was a tiny bit deeper. Over time, while breaking in a lubed bearing, the oil/gunk/grease or whatever you want to call it gets trapped between the bearing and the well below the bearing seat.  This buildup can cause some unexpected responses.  This is certainly not a deal breaker, but it you want a truly unresponsive performance from the Cream, I would clean the SPR bearing seat and the bearing a little more often than you do with a standard metal. I have had the Cream a week, and have already noticed a filmy buildup on the SPR bearing seat well. A deeper well would help keep the "lubed bearing gunk" off the bearing wall for a little bit longer. Then again, some of you might never notice a problem, but it is still something to consider. I leave it up to you and the designers. If you notice that your Cream suddenly is binding on whips, you may want to break out the q-tips and spirits.
Other than that (which isn't really an issue if you perfer a completly dry bearing), the Cream is fantastic. It performs like a well balanced metal, it has a familiar undersized feel and shape, and the dual finish surface makes hand/arm grinds more fun that they should be. Congrats Paul, can't wait to see what you release next!
Expect the Cream, and perhaps a few more surprises from Crucial Clothing, to hit YoYoNation sometime this month.  I am not sure about other stores, but with a yo-yo this great and this much demand, I hope it gets atleast one outlet in all the major YoYo-ing countries.
Also, if you see Paul at a contest, there is a good chance he will have some of his wares to sell.
Also, check out Paul's new blog, where he and the legendary Glass Eye keep the YoYo World up to date on all things Crucial.
Written by Chris "Dr. Yo-Yo" Allen, who finds himself suddenly wanting a tall glass of Milk.
---
---
---