---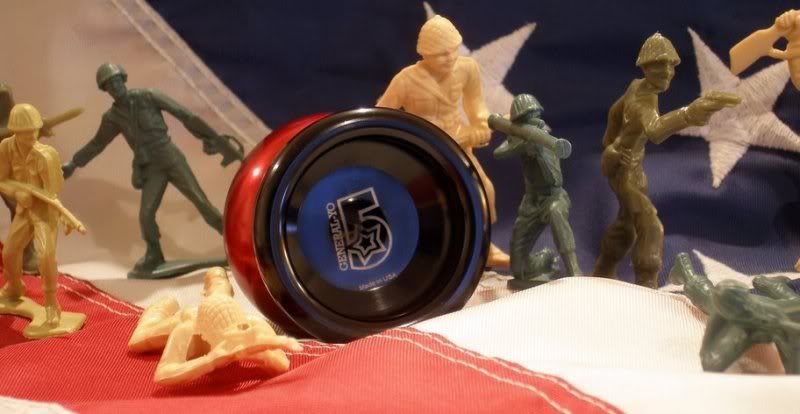 Introductions:
Shortly after my review of the Torrent, Ernie over at General-Yo called me up to tell me he had another yo-yo in the works.  I was quite surprised since the Torrent was just dropped and was such a huge success.  I thought for sure he was going to do another run, but Ernie, with excitement in his voice, told me differently.  The new yo-yo was going to take what the Torrent did successfully and roll it into a new design. It was going to match up more with what people wanted, and was going to be sweeter than the floor in a Snickers Bar factory.  I am excited to review for you and present the 5 Star by General-Yo.
64.7     Grams
40.89   Width
52.07   Diameter
3.91     Gap
Silicone response
C size AIGR Bearing (aircraft instrument gyro rated)
First Impressions:
I had seen the pictures of the raw 5 Star just like everyone else, but without anno it did not look that much different from most yo-yo's.  I have to tell you that my jaw dropped when I opened the box Ernie sent me.  The red anno is so eye catching it looks like it belongs in a super model's wardrobe, and the black shine really gives it a powerful commanding presence.   The laser engraving is simple yet elegant and you have to appreciate the placement considering how hard it is to engrave on a cone.  Accompany the 5 Star is: the now standard letter of intent warning you against yo-yo shenanigans, two pairs of General-Yo pad's and an uber quality Bloodline Intentus thread by G-String that really ties the bow to this package.  This yo-yo has a confident and commanding presence that really gives you the feeling that you are about to experience greatness.
Comfort and Tech:
I can't put it down.  I have had the 5 Star for the last few days, and I can't put it down.  It sits next to my keys and my iPhone on my nightstand when I sleep.  It is on my belt or in my hand when I am awake.  It is so comfortable to hold I don't even want to look at my yo-yo case for fear of seeing my other yo-yos make puppy dog eyes to me.  I understand that some of this is the "new" factor, but it is a rare occurrence when am I so immediately taken with a new yo-yo. In fact, most of the time I pick up a new yo-yo and immediately notice everything I don't like about it.  This was not the case with the 5 Star. In my hands the 5 Star's progressive gap hits the meat of my palm perfectly.  It is comfortable to hold and easy to get a hold of. 
General-Yo went all out with this anno.  The result is a thick candy coating that glides well on the skin without the stickiness that plagues so many shiny yo-yo's.  The anno is thick and well applied.  I can IRG and grind with this thing without having to worry about the anno coming off.  The curve on the gap is punctuated by a last minute flare that gives you a gap extension without compromising performance and helps center the string in the gap during less then accurate throws.
The 5 Star is slightly thinner then an 888 but has a slightly bigger diameter, and the weight is right in the very popular sweet spot at 64.7 grams.  The gap is slightly smaller then the Torrent, which should please those that thought the Torrent had kickback, while still providing a great slack player capable of taking multiple wraps and deliver tight binds.  The bearing Ernie chose is unlike any other I have ever tried.  It is a standard C-Size, but has incredible spin time on even the flick of a finger.  Ernie has told me that these bearing are from a supplier that uses them specifically for the gyro units in airplanes and jets like the F-16.  That tells me that under the most extreme conditions, this bearing will perform.  I do not know if there is any lube in this thing, but as far as I can tell it is mostly dry, and spins more then a drunk freshman at a college frat party.  To please all flavors of  response junkies, you are presented with a recessed groove capable of taking silicone or pads in the many brands you are already loyal to.  Ernie has also provided you with an option pack.  The yo-yo comes with a beautifully executed flowable silicone response, and a pack holding a pair of smooth pads and a new pad with grip for a more responsive feel.  I can not applaud General-Yo enough for trusting it's customer base, knowing that they will be able to be able to make informed response and bearing decisions.  [ *glares angrily at Yomega…* ]
On a Throw:
Throwing the 5 Star makes me feel like anything is possible.  The 5 Star's ability to grind, flop and spin is unearthly.  The stability matches the jaw dropping design and makes you want to yell "THIS IS SPARTA" while nailing trick after trick.  The aggressive gap design provides a confident trick platform to experiment with, and encourages you to discover more aggressive combos.  Thanks to the perfect width to weight ratio that Ernie must have discovered while building rainbow generators, the 5 Star is quick, slick, and glides better then you could ever expect from a yo-yo not made of pixie dust.  Tossing on a counterweight is the equivalent of adding nacho cheese to chips.  It feels so right that it must be done.  At 64.7 grams, the 5 Star is the perfect weight for a traditional bouncy ball or Duncan dice.   
The response types worked as advertised.  Silicone and smooth pads proved tight binds and a zero response play, while the textured pads gave you tug response.  I love the fact that if I feel like using Diff's, Chaz Pads,  Kentaro's, General-Yo Pads, Onedrop Silicone Stickers, or flowable silicone, this yo-yo will comply.
What stands out more then anything is the stability and spin time the 5 Star rewards you  with.  The 5 Star has zero wobble or vibe.  This thing is more stable then an earthquake proof industrial office building.  The combination of the AIGR rated bearing and the body of the 5 Star delivers a truly solid experience.  This yo-yo does not float, it rockets.  I can only imagine what this beast would be capable of in the hands of a speed player like Augie or Yuuki.  I can not attest to 3a since I have absolutely zero amount of skill in the division, but I would imagine that a yo-yo this stable would perform quite well in 3a skilled hands.
Final Thoughts:

 
Apparently the yo-yo design lightning bolt hit Ernie twice, because this thing is candy coated win on a sesame seed bun.  With a name like 5 Star, you are setting your bar pretty high.  Certain expectations come with a 5 Star rating.  Only the finest Restaurants and Hotels ever achieve a 5 Star rating.  In the Military, a 5 Star is the considered the highest possible rank that one can achieve, and has been awarded less then a dozen times.  Keeping that in mind, this yo-yo earns its name and delivers in every way.  The 5 Star provides you with everything you expect in a high end metal and does not fail to exceed expectations in every category.   I don't know what to expect from Ernie next, but I know that the 5 Star belongs on everyone's first round draft list.  Have no hesitation in ordering this yo-yo.  General-Yo went above and beyond to deliver a product with this much playability.  
You can purchase this fantastic Yo-Yo on Monday March 23rd (may vary by store) at:

www.YoYoNation.com
www.TheYoStore.com
www.OneDropYoYos.com (yes, realy)
and a select few overseas retailers.

Only 60 (apx) available for purchase total.
---
---
---