---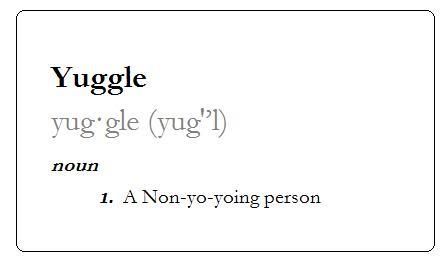 Ahh, Yuggles.  You all have met one.  They come in many shapes, sizes, ages, and in many different variations.  You're yoyoing in the mall, and a late 20's guy walks up and demands you walk the dog, insists there must be "some kind of motor" in there, and tells you that ball bearings are cheating.  A child stares at you in amazement while the mother pulls him trying hard not to look.  A lurker watches you from afar, too afraid to come up and ask you questions.  There are good Yuggles and bad Yuggles out there, and with the interest in yoyoing steadily building, yoyoing in the public is sure to bring you an encounter.  On the forums, there are a lot of threads talking about encounters, and how to deal with them.  Having yo-yo'ed for 12 years in public, performing and doing demo's, these are the best ways I have found to deal with some of the more common Yuggles with the purpose of bringing them into the world of yoyoing.
The Old Veteran

This guy played with the real thing.  Duncan Good Boy with an Egyptian Cotton string.  He will tell you of a time when he won his school's Duncan Yo-Yo Contest, and will ask you if what you are playing is a Duncan.  There is a lot of very good conversation here, and the worst thing you can do is ignore him.  The Old Veteran is a wealth of information and history of the sport. Listen to his stories, and tell him the changes that have happened.  Not only could you find yourself learning something, but you could also really make his day, spending time talking about nostalgia and his youth.  One of my favorite stores from an old Vet is from an actual Vet.  My best friend's grandfather in law used to meet girls at the USO show when he was in military service by yo-yoing.   My recommendation is to listen, share, and then show him the new technology behind the toy he remembers and you love. Even better, if you have a responsive yo-yo with you, let him try. He might surprise you!
The Wide Eyed Child

These kind of Yuggles are the best.  To them, you are a yoyoing Master. You are showing them something they have never seen before.  The important key is to not explode their head.  Keep the tricks mostly basic with lots of picture tricks.  Little boys love seeing the trick Rocket Ship (aka Eiffel Tower), and little girls love tricks like Star.  At this level, they really are only impressed by what they understand, so showing a wide eyed child the latest slack trick isn't going to do it, then need to be able to relate.  A VERY popular favorite, if you are using the right yoyo, is to walk the dog into their shoes.  They think it's hysterical.
The Lurker

You know he is there. He knows you know he is there. You can't always locate them in the crowds, but you know you have a Lurker when you are doing tricks, and you feel like you're being watched. You just know. If it is bothering you, move to another spot, but honestly, most of the Lurkers are really just curious and have no idea how to approach you. There is not much you can do with Lurkers except put on a good show. If you DO happen to make eye contact, they will likely look away really fast. If you have the opportunity, the best thing to do is to dig up the responsive spare you keep in your bag (highly recommended to always carry a spare) and let them try. Tell them where to go to find more information but don't expect much conversation. Lurkers are not usually up for conversation, they just don't have it in them.
The Soccer Mom

You can hear them coming. Strollers, kids yelling, talking on the phone, attention divided. These Yuggles can be scary sometimes but for the most part, they just need a break. They see you yoyoing and rush up with multiple kids in tow, some of them still on the bottle, and are so thankful for a respite of 5 minutes as all of her kids are focused on you playing and doing tricks, keeping the kids attention just long enough to finally take a long drag of her coffee, take a deap breath, and then go about her day. If you can catch a conversation with her as she repeats to her kids "Look at that!" in a kindergarten teacher tone of voice, let her know where she can find out more info about yoyoing. You could have just introduced the world of yoyoing to the next prodigy.
The "Hecka Cool" kids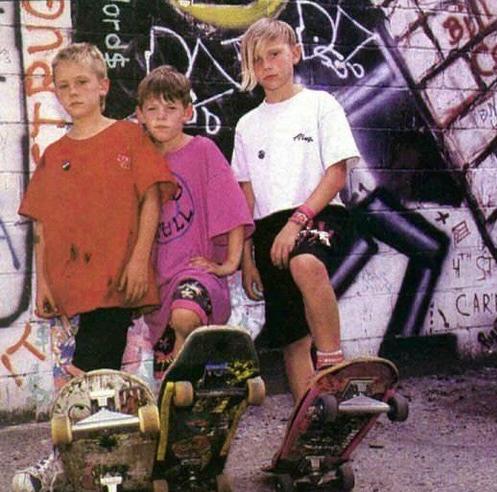 This is a very common Yuggle. They use words like "Hecka", "Wicked", and "Raddest" and have most likely already deeply involved in a extreme sport like Surfing or Skateboarding. The "Hecka Cool" kid is the easiest to talk to and will approach you without any hesitation. The two variations here are the kid that comes up to you wanting to talk about yoyo's, and the kind that want to tell you that you're lame. In both cases, the BEST thing you can do is let them try. This is where a spare comes in handy because the first thing they will do is Walk the Dog so be prepared. Also relate yoyoing to whatever he is in. Does he skate? Ask him about skating. If you show interest in his sport, he is more likely to show genuine interest in yours.
The Demander

This guy wants you to do a specific trick, and he is not going away until you do it. This Yuggle would tell David Blaine to "Do that Trick with his Thumb". He just does not get it. You could be doing the most awesome tricks ever, but if you don't do the "Baby Cradle Thingy" and "Walk the Dog" then he is going to mock you. Incessantly, and loudly like a Drill Sergeant. If you're using your prized metal over concrete, an arm grind will suffice in place of walk the dog, but you have to do something or he WILL NOT leave you alone. The best way I have dealt with this kind of Yuggle is to pull out my spare (Currently a Velocity set to responsive) and show him how to do a trick or two, and then tell him where to buy one. Patience, with this Yuggle, or he could ruin your otherwise enjoyable throw time.
These are the most common types of Yuggles I have encountered.  Just remember, if you are yoyoing in public, the public is going to watch you.  If you want to be respected and to have a good time, you need to remember that most people have never seen anything like what you are doing.  They are going to be curious.  With these guidelines, you can increase your chances of bringing a new member to our community,  or in many cases, get a paying gig to display your talents.
YoYoSkills.com would love for YOU to tell your stories of Yuggle experiences below in the comment sections.
Written by Chris "Hecka Cool Dr. Yo-Yo" Allen
Edited by Dustin Gunter, who now has hives from coming in contact with the word "hecka".
---
---
---