---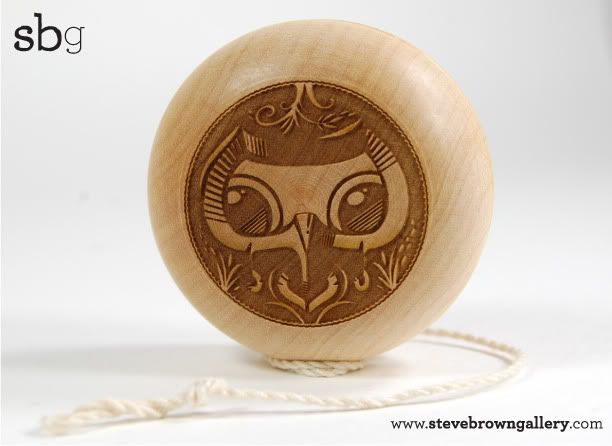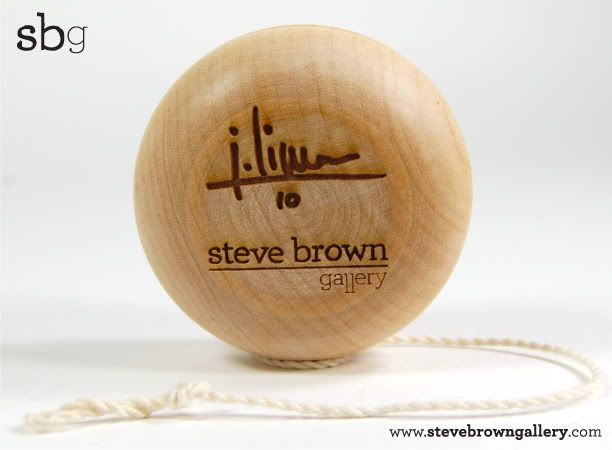 Art and YoYoing is a growing sub-culture of two growing sub-cultures.  One of the heralding forces of  this movement is Steve Brown.  Steve is releasing a line of yo-yos that feature the art of an artist, like Jason Limon.  Each yo-yo is limited to 30 pieces, sold for $15 and will never be made again.
The first in an on-going series of Artist Edition Yo-Yos features artist,Jason Limon.
Available on April 9th at the Steve Brown Gallery
Official Press Release after the jump…
–
Press Release –
The Steve Brown Gallery is excited to announce an on-going series of limited edition wooden yo-yos, engraved with new artwork by today's most exciting artists.
The unadorned yo-yos themselves are a work of art. Made in the United States and turned from a single piece of Hard Rock Maple, they are made in the traditional fashion of yo-yos from the 1920s. While most modern yo-yos are made of high-impact plastic or aircraft-grade aluminum, these wooden yo-yos are meant to evoke a simpler time in American history. The yo-yo is the second-oldest toy in the world and still one of the most popular; it's with this heritage in mind that these wooden yo-yos were chosen.
Each Artist Edition Yo-Yo will be limited to 30 pieces worldwide, and will never be manufacturerd again. One side will be laser-engraved with original art by the selected artist, while the other side will be engraved with the artist's signature and the Steve Brown Gallery logo.
The goal of this series is to provide you with a work of art that is meant to be part of your everyday life. It is our hope that this yo-yo provides you with simple pleasure for years to come.
The first yo-yo in the series is $15.00, and will be released Friday, April 9th only at www.stevebrowngallery.com, and will feature artwork provided by Texas artist, Jason Limon. Jason's unique style and constant exploration of mediums and methods has earned him a devoted following among both casual and serious art collectors, and his gentle nature and good humor shine through in his work. His online gallery series "thefirstof" offers new work and explorations at studio pricing on the first of each month.
—
The Steve Brown Gallery is an online gallery, curated by Steve Brown. Conveniently, Steve is also a National Yo-Yo Master, and has been professionally performing yo-yo shows for the past 15 years. He holds one patent for yo-yo design, and has traveled to 17 countries to promote yo-yo play worldwide.
For more information:
Steve Brown
www.stevebrowngallery.com
stevebrowngallery@gmail.com
Jason Limon
www.limon-art.com
www.thefirstof.com
jasonlimon@mac.com
Also, check out this interview with Jason by the Save Deth crew.
---
---
---