---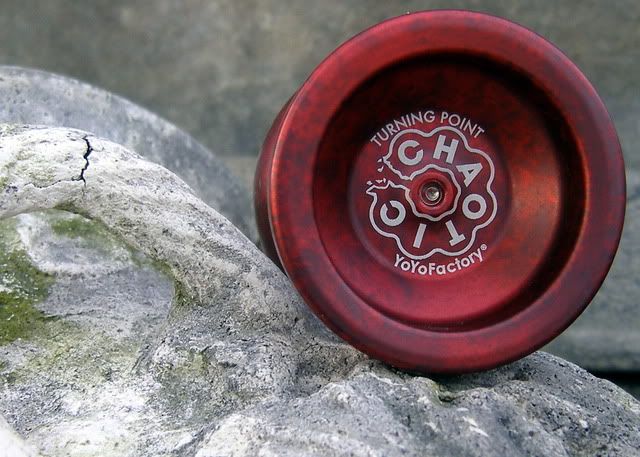 YoYoFactory has been pumping out an incredible amount of new designs. One of those designs, the Lunatic, made its way into 3a World Champion Kentaro's hands. A few tweaks here, a nip and tuck there, and a whole lot of rim weight later, YoYoFactory and Turning Point introduced the Chaotic. The root word of Chaotic is chaos, which is defined by lack of order or predictability. You have to wonder exactly what Turning Point and YoYoFactory were trying to say with the name. Seven days, one yo-yo, one review, and a mountain of bad puns. Here you will find my review, of the Chaotic.


| | | |
| --- | --- | --- |
| Quantity | | No item(s) available |
| Manufacturer | | YoYoFactory |
| Shape | | Butterfly / Wing |
| Weight (g) | | 66.00 |
| Width (mm) | | 39.36 |
| Diameter (mm) | | 50.00 |
| Gap Width (mm) | | 4.76 |
| Bearing Size (Inside x Outside x Width) | | .250 x .500 x .187 in Center Trac |
| Gap Type | | Fixed |
| Stock Response System | | CBC Pad |
First Impressions:
My wife likes to knit. She knits like I yo-yo, compulsively. Her favorite type of yarn to use is this super premium silky wool blend that when knit together seems to change color and catch shadows. This is the first thing that came to my mind when I got my hands on the smoky red Chaotic. This finish is very stunning. YoYoFactory packaged the Chaotic in the standard YYF Box. I love these boxes. I keep them and hang them on my wall.  Once I freed the Chaotic from the clutches of cardboard, I was struck by how small it was. I thought for sure that, considering the shape, the yo-yo would be bigger. The Chaotic is a bit smaller than an 888, and shaped unlike any YoYoFactory yo-yo I have seen. The inverted catch zone has a sharp transition, and flairs out to extremely thick rims. It is clear; this yo-yo was designed with rim weight in mind.
Comfort and Tech:
This is the kind of design that either haunts you, or makes you drool with anticipation. Kentaro from Turning Point took the Lunatic FundeMETAL design by YoYoFactory and reshaped the body to push the rim weight to extreme levels. With all the weight focused on the rims, the Chaotic is designed to push the limits of stability and spin time.  While the shape may be similar to the ILYY Enigma, it is quite a bit smaller. 50 mm in diameter and 38mm wide, I think it would me safe to categorize the Chaotic as an undersized throw. This makes it a little harder to hold comfortably in the hand for large palmed individuals like myself. In fact, it is down right uncomfortable for my giant hands. My middle finger barely fits into the catch zone, and the rims hit my palm a bit more into the thumb pad than I like.  I prefer the yo-yo to sit on the outer edges of the thumb pad.
The anodization, while giving it a cool visual effect, seemed to make the Chaotic a bit sticky on the skin. The gap is a massive 4.7 millimeters and is intensified by the inverted catch zone. Inside the response area came the now standard CBC pad grooves and a Center Trak bearing. I should mention that I did not test this unit with a Center Trak bearing for long, because it seized up on me on day two. The Chaotic comes with a Center Trak bearing, but this review was done with a flat spec bearing.
On a Throw:
Thanks to the rim weight, the Chaotic played a bit heavier than the expected 66 grams. This gave the Chaotic a solid feel that moved slowly without being floaty. The extreme rim weight setup gives the Chaotic a good platform to provide long smooth spins, but is unfortunately not very forgiving to a bad throw or a throw after a bad bind. On those good throws though, the Chaotic performed with due diligence. Pops and transfers were great without any tilt or loss of stability. Gyro's were fast and smooth, and so were hops and pinwheels against the rotation of the spin.
One of the things I found myself doing with the Chaotic was practicing behind the back and rejection tricks. On a good throw, the stability of the Chaotic was flat out supreme. This made a great platform to practice behind the back moves, something that is usually (in my case) tilt city.  Thanks to the Chaotic, I was able to practice some hard moves without stopping in frustration.  Rejections are fantastic also, allowing you to reject the string with large slack formations.
Grinds were, honestly, pretty mediocre. My finger kept on getting trapped in the catch zone, and once it got moving, the yo-yo kind of skipped around. With a little but if practice I was able to smooth out the grinds, but by the time I worked it out, it seemed like a chore. IRG's were no better;  no real defined groove but enough open space to force an IRG 360 at severe cost to the spin.
Nine times out of ten, the Chaotic was very stable and free from tilt or wobble, but on that 10th throw, watch out. This shape is not one you want screaming back to your hand due to a bad bind. Twice this week, I caught a bad bind causing a teeth clenching, knuckle smashing, foot stomping reaction. Had to ice my knuckles…..
Final Thoughts:
As far as names go, Chaotic is most appropriate. There were times that the Chaotic performed fantastic, and other times that I had to put it down walk away, and cry in a corner. I think that most of the problems I ran into with the Chaotic revolved around the fact that the shape was just not right in the small size for my hands. I ran into another yoyoer (Hey LJ) that was much smaller than me and let him try the Chaotic. He was able to grind without problems, and did not have any problems with the way the Chaotic felt in his hand.
As far as the Center Trak bearing seizing up… I am not too worried. I have a long time receiving yo-yos shipped from all over the world and sometimes things happen. I have had many bearings or many different styles arrive in bad shape, and others just suddenly fail. Luckily, YoYoFactory uses a standard C-Size bearing, something I have plenty of.
I am going to have to chock this one up to a 'Try Before Buy". The stability is fantastic but the shape is more of a risk. Depending on your hand girth, the Chaotic may be great for you, or may make your hand want to run and hide.
Available at:
Everywhere. Seriously, any one of the stores on the right have, or have carried the Chaotic in the  $ 76.50 price range.
In the States:
YoYoNation
YoYoExpert
YoYoGuy
Bird in Hand
YoYoLoco
YoYoJoes
Overseas:
La Tienda Del YoYo
YoYoz.co.uk
Written by Chris "Dr. Yo-Yo" Allen, who suffers from chronic man hands…
Edited by Dustin "Splugen" Gunter, who also is sasquatch-handed, and has EPIC THUMB WARS with Chris.

---
---
---