---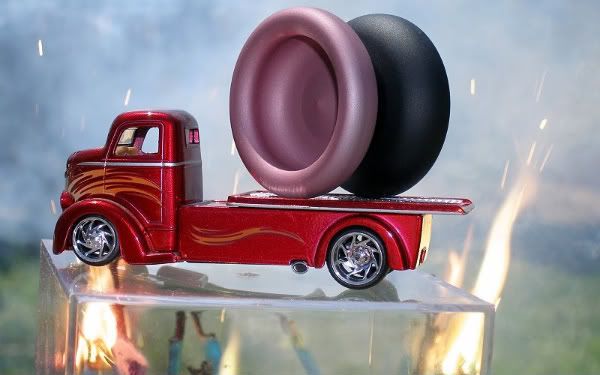 Happy Birthday America!  This week I had the privilege to play test a General Yo Mini-Star.  General Yo has had three killer releases, all of which were quick sell out and highly demanded.  Ernie has been working on this release for a few months.  When he told me he was making an mini yo-yo, I could not wait to try it.  Pictures of the polished raw model surfaced and the yo-yo community did what it usually does when great products get previewed and drooled collectively. High fives were exchanged.  The National Debt immediatly balanced and America won the World Cup!  Alright, maybe not, but people were excited.  Today on the Fourth of July, I present to you the YoYoSkills.com review of the General Yo Mini-Star.
| | |
| --- | --- |
|   |   |
|   |   |
| Weight: | 62.30 gr. |
| Diameter: | 48.28 mm. |
| Width: | 36.30 mm. |
| Gap: | 4 mm. |
| Bearing: | C (250 x 500 x 187 in.) |
| Gap Type: | Fixed. |
| Response Type: | Hat Pads – General Smooth-Yo. |
First Impressions:
 Ernie had showed me a picture of the new General Yo Mini-Star colorways.  He said "Pick One".  The pink and black one immediately jumped out at me.    I prefer bright color throws and the Pink and Black one was the brightest of the bunch.  "That one is pretty rare" Ernie said, so I told him what I tell other manufacturers who send me review units; " No big deal, send what you think will photograph best."  Days later, a General-Yo box appeared on my doorstep.  I opened it up, a drum Roll running through my head, and when I saw that Ernie had sent the pink and black one, it was like someone threw the band Rush in my head with a few gallons of awesome.  It was on. 
The Mini-Star is smaller than I thought it would be.  It is smaller than an 888 or M1, but bigger than the Dingo.  It is pretty close in size the the modern day classic: Anti Yo's Business.  A bit wider, but nearly the same diameter.   Ernie has packaged it on his stickered white box.  The production version due to hit stores soon will have a star on the side, and I believe there are a few special editions due to drop at certain stores.
Comfort and Tech:
Giant hands vs small yo-yos, the ever lasting battle.  I prefer my undersized a minimum of 50mm in diameter, but ther are exceptions of course.  The Mini-Star falls under the undersized threshold and almost into the "Mini" realm, but not quite.  In my giant hands, the 48mm diameter was surprisingly comfortable.  Probably due to the 36mm width.  The rims rest comfortably on my thumb pad.  There is not much room in the curvy catch zone for anything more than my finger when I palm it, but it was not that bad.   The Mini-Star is actually quite light.  With the small size and a 62 gram weigh in, I expect this yo-yo to move around pretty quickly. 
The bead blast finish is thoroughly applied over the entirety of the Mini-Star with exception tot he Response area and a bit up the catch zone.  I always appreciate the great care that Ernie puts into his bead blasting.  By masking off the recess area, there is less "string chew" feature that plagues aggressively finished yoyos.  Inside the gap is a standard C-Sized bearing and a response groove designed to not only fit the long lasting Hat Pads, but also flowable silicone if you so desire.  The outer rim curves under just deep enough for a small IRG.  Grinds on a yo-yo this small should prove both challenging and fun. 
Another benefit to the small form factor Ernie has presented, is the pocket portability the Mini-Star has.  It fits well in my already stressed jeans. (What, I like my cupcakes and Jack in the Box. What of it?) It does not feel like I am trying to hide a 78 Chevy Nova in my pocket, which I appreciate.  Lets face it, being able to carry the yo-yo around is something to think about.  I use belt clips most of the time, but sometimes I appreciate a pocketable throw when I am in a hurry and can't find a Clippy-Do.
On a Throw:
Does not play like a Mini.  Seriously.  Imagine if you managed to cram yourself into one of those European Smart cars that look like a bread box, and once you hit the Go button (really, most of them don't have keys) and it takes off like a muscle car on a drag strip.  That is what the Mini-Star feel like.  Way more power than I was expecting.  the Mini-Star has a weight of only 62 grams, but on a throw it feels like a a fast 66 gram contender.  It must be how Ernie distributed the weight around because the something this small should not be this fast and stable.
The small stature is great for quick chopstick combo's.  The thin 36mm width is a bit hard to hit on whips and transfers, but with a steady hand and some practice, it comes together nicely.   Other than fast and stable, the Mini-Star is extremely smooth.  No hint of vibe or wobble.  The only reason I knew it was spinning was because I could hear it.  The Mini-Star held up well in tight formations and in large trick movements.  Transitions for bit hop tricks to tight string tricks were well handled and the Mini-Star kept on spinning true without a snag or unexpected flop.  Not only does it have a nice long clean spin, but the Hat Pads in the response groove provide a solid bind.
Grinds.  General-Yo designs for them well.  I don't know what to say that I haven't said a million times about Ernie's other designs.  The Mini-Star grinds fantastically without any hop, skip, or jump on the arm.  The IRG is just barely deep enough for a thumb, but it works.  The bead blasting is a bit warm when you grind, but not that bad.  The Mini-Star is small enough to be unique but large enough to be playable. 
Final Thoughts:
Well, chalk this down as another Grand Slam for Ernie.  The Mini-Star took what is desirable about mini yoyos and  knocked it out of the park.  When it boils right down to it, I expect alot of people to grab for this yo-yo on the way out the door for a casual throw.  It fits in the pocket and plays great right out of the box. It may be too small to see any competion stage play, but it is a great amount of fun to toss in your pocket  for a quick satisfying throw at the Mall, Work, Restaurant, or Wedding.  When this yo-yo drops in the States, don't hesitate because you might miss out.  I expect these little buggers to go quickly. 
Expected to drop soon in the $90 price rance at:
>>YoYoExpert.com
Already available overseas at:
Oh, and Happy Birthday America.  High Fives all around!
Written by Chris "Dr. Yo-Yo" Allen who has spent the day so desperate for some all American High Fives (No not really, don't touch me you cootie farm)
---
---
---