---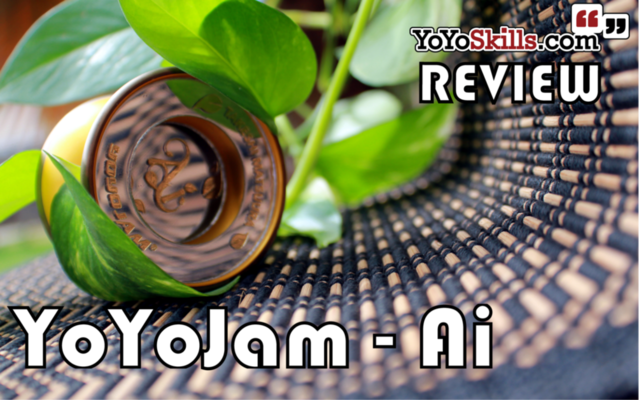 Introduction:
Takeshi Matsuura is not human. He is a robot sent from the future to dominate any and all styles of yo-yo competition play. I mean come on. His signature yo-yo is called the Ai. I saw that movie and all it did was make me frightened of teddy bears. You may think your seeing an e-fan combo, but what you are really seeing is a robot mastermind recharging his flux capacitor time circuits to bring in the robot army…..
Alright, so maybe he isn't "Terminator Takeshi", but the kid is absolutely amazing. 13 years old, and now resting on multiple World and Japan Nationals championship titles. At such a young age, no where to go but up, it is clear that this YoYoJam sponsored machine has been due a signature yo-yo for a while. YoYoJam has delivered. Designed to work with all three of Takeshi's chosen play styles, and kicking off the first of 5 YoYoJam reviews, here is the YoYoJam Ai.

First Impressions:

Like all of YoYoJams other releases, the Ai comes in a clear and green plastic YoYoJam branded box. I have been very vocal about my opinion that YoYoJam needs to improve their packaging for a while. Better packaging will help their merchandise display better at physical stores, and a product description would help non yoyoing sales people at boutique stores sell the products more efficiently. I have shared my idea's with YoYoJam and I felt they were well received so at this point there is new real need for me to beat my fist about it any more. Out of the packaging the first thing that surprised me was that the outer cap on the Ai was hollow. I had seen and posted pictures of the Ai but thought that the outer cap had a clear center. What it looks like YoYoJam did was create a solid foil cap and punch out the center, and then affixed the center to inner cap inlay of the yo-yo cup. The outer caps are removable and weigh in at 3 grams combined. It does not appear that the inner caps can be removed.
Comfort and Tech:
Weight (g) 70.00
Width (mm) 40.87
Diameter (mm) 53.66
Gap Width (mm) 3.40
The outer rims are brass rings. YoYoJam specializes in this. By having a rim composed of a higher density metal than the yo-yo body, YoYoJam was able to concentrate more weight on the outer rim. This brings the Ai up to a wrist throbbing 70 grams. Since the caps are removable, you can sacrifice some rim weight to bring the Ai down to a much more manageable 67 grams. I tested the Ai in both configurations. I also worked with the Ai in two gap configurations. Out of the box, the Ai has a 3.4 mm gap. I found out that Takeshi and Dale from YoYoJam designed the Ai with a 3.5 mm gap on purpose. Takeshi wanted a yo-yo that could be used in multiple play styles. When Takeshi wanted to play 3a, the small gap helped keep the yo-yo responsive when needed. In other play styles where you would need a wider gap, Takeshi would put shims in the bearing seat.
The Ai had a kind of modified h-shape to it. From the rims, the curve sweeps into the gap and then bulbs out creating a step about two thirds the way down. This bulb step increases the width of the yo-yo and creates a platform that allows your middle finger to rest on. Inside the bearing response setup is a c sized bearing and a YoYoJam white silicone ring response. There is a small seam in the outer edge of the brass rings where the aluminum and brass meet. I found it distracting. I also found my fingers rubbing against the inner rims of the foil caps. The Ai has a strange feel in your palm. I am not sure if it is the shape of the changes between the two metals, but in my hand the Ai felt bulky. at 53.6 mm in diameter and 40.8 mm wide, the Ai should not feel bulky but the 70 grams of weight, where the weight was concentrated, and the shape seemed to combine in an uncomfortable hold. The yo-yo is pretty, but I don't really want to touch it.
On a Throw:
Oh my. Right out of the package the Ai felt snagy, slow, had a distinct vibe, and felt way to heavy on a throw. Painfully heavy. I know that this falls sharply in the "Personal Preference" category but for me 70 grams is a one way ticket to swollen wrist land. After a day of stock configuration, busting knuckles from snagy unexpected binds, and a vibration that rivals an American muscle car, I had to pull the caps out and shim the gap. At 67 grams and with a 4mm gap (thanks to a pair of shims), the Ai went from painful to playable. The Ai played quite fast but still had some snagy moments when working with multiple wraps. There was still a slight vibration that I think may be steaming from the inner caps not laying evenly, but it is not that bad on normal string play.
The nice large open catch zone is an easy target to hit but unless your have shims installed, be mindful of snags. The wide profile also makes hops and transitions easy to catch, but I found the shape does not lend itself to string rejections. The string didn't seem to move enough past the step and kept on slipping back into the gap. I was able to do Magic Drop, but a rejection from a gateway or fold was just a no go. There is a very noticeable strength though. The Ai stays at the tilt angle you put it. I found no unintended tilt and when throwing it off plane, like Takeshi does for a lot of his tricks, the Ai seemed to stay there quite well.
The finish on the body is very smooth, but the brass rings do not lent themselves very graciously to grind tricks. Not to mention the vibration, which on an arm grind seems magnified like a kid with an ant hill and a magnify glass. With the caps on, there is the impression that you could do a thumb grind but…. I don't recommend it. I tried it, and… well I just don't recommend it. Without the caps there is not a lip to use or IRG's so your going to have to force it into a tilt to pull of a thumb grind.
Final Thoughts:
I understand what YoYoJam was going for here.  I was able to confirm that Takeshi wanted a yo-yo that he could use for all the play styles he competes in. The gap was intentionally small so he could shim it to his preferences, and the caps let you swap between 67 and 70 grams  I understand it, but I wish that YoYoJam had included a pair of red and grey shims in the packaging along with some documentation about what settings are recommended for each of the play styles the Ai was designed for.
The yo-yo has a really clean look to it. $110 is a good price for a premium yo-yo but without some documentation I worry that a player will have the same experience as me, throw it stock out of the package in 1a, and define the yo-yo from there. Once you tune the Ai for how you prefer, Heavy or Light, Responsive or Unresponsive and the possible combinations thereof, the Ai isn't that bad.  I have to be honest though, if I wasn't reviewing it, I probably would have stopped throwing the Ai after the first hour because I didn't know it needed tweaking.  Stock out of the package, the Ai is not set up for me and honestly, it took a few days to find a setup I could enjoy but once I had it shimmed and removed the caps, the Ai was pretty good.  It has potential to be a great throw for pretty much anyone, but it will greatly depend on how willing you are to tweak it to find the setting that works for you.
Bottom Line: The Ai is good buy if your looking for a yo-yo with a lot of potential versatility.  You just need to have the patience to find the setup that works for you.
~$110

Available at:
>> YoYoExpert.com
>> YoYonation.com
>> YoYoGuy.com
>> YoYoRewind.com
>> YoYoSam.com
>> YoYoLoco.com
---
---
---