---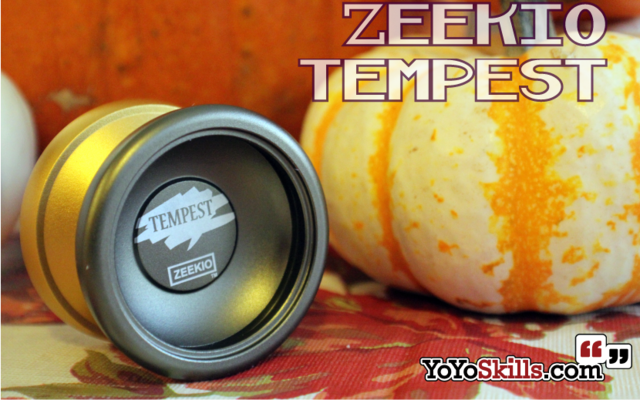 Introduction:
More yoyo exposure means more yo-yo stores. More yoyo stores mean more yoyo manufactures looking to break into the business. A rise in manufactures leads to more yoyos on the market, which often leads to a rise in yoyo interest and exposure. It is a delicious marketing cycle that follows many trends, from toys, to Silly Bands, to low rider bicycles. A new name appeared recently on the yoyo manufacturer scene called Zeekio. They had a very "Aquarius" like off string, and now have introduced a low cost metal yoyo called the Tempest.
First Impressions:
I knew I had seen this yo-yo before. The Zeekio Tempest is in fact a rebranded WarYo from a Chinese yo-yo company. Zeekio is in fact the yoyo brand run by the folks over at YoYoSam. I don't think this is a bad thing by the way. It has happened before and will likely happen again, it's just not that common for a store to license out designs. From my research, the WarYo had not been released in the US. In my mind, licensing is a good way to get the ball rolling for a low entry cost and if successful, could lead to a full line of custom designs.
The Tempest came in a clear plastic box. The Zeekio and Tempest logo is laser engraved on the inner face of the yo-yo and can be clearly seen. The shape of the Tempest looks to be fairly standard except for a steep step right behind the rim. A step is not uncommon, but usually not this dramatic.  In the box, the Tempest has a concave bearing and two black weight rings.  It seems pretty heavy, and my guess is that I won't be trying it long with the weight rings without wanting to chop off my hands.
Comfort and Tech:
Zeekio Tempest
Weight: 65 Grams (73.6 grams with rings)
Width: 42 mm
Diameter: 59 mm
The rims on the Tempest confuse me. Well, not so much the rims, but the little wall from the catch zone to the rims.  The rest of the catch zone is a simple straight design but the step is just throwing me off. I think if the designer had eased the wall and moved straight to the rims, it would have been more eye pleasing and more comfortable in your hand because as it is, holding the Tempest is not exactly the best experience. It has a bulky feel and traps your finger into the catch zone, placing it directly on the string wrap. The sharp inside edge of the rims hit your palm with a fury.
The diameter is really big for a full metal. A 59 mm diameter is more common on plastics and metal plastic hybrids, but I can only name a small handful of 59 mm diameter metal yoyos when compared to the rest of the market. This is not a bad thing, but it gives the Tempest an unfamiliar feel. The Tempest comes with weight rings installed, and a concave bearing setup. Inside the response area is a shallow bearing seat and a response groove holding a set of vapor rings that looks deep enough to put in flowable silicone. The finish is very soft and bright on the gold half.
On a Throw:
OW OW OW OW OW. Oooookay, weight rings have to come out. With the weight rings in, the Tempest is a wrist swelling 73.6 grams. I gritted through 5 minutes of stock with weight rings play and then iced my hands. It was like trying to throw an early model Mazda Hatchback; Awkward, vibey and painful.
Once the rings came out, the Tempest was a much more bearable 65.6 grams. The Tempest is a fast and speedy full sized throw with a slightly unforgiving stability. The first thing I noticed was that once the Tempest started to tilt, there was little to do to correct it. Many yo-yos can be tilt corrected by pulling the string against the opposite wall, but for some reason when the Tempest is corrected, the string drag effect absolutely kills the yo-yo spin time. I also experienced a little bit of vibration. I was able to work out most of it by swapping out to a broken in bearing and reseating the axle, but it can be frustrating to have to troubleshoot a brand new yo-yo. I know that slight vibration is not a deal breaker for most yoyoers, but it has never sat well with me.  It just tells me that something is off, and in this case I think it might be that shallow bearing seat in combination with a short axle.
BUT, I was very happy with how fast a zippy the Tempest was. It was easy to maneuver in and out of string segments and thanks to a moderate sized gap and a concave bearing, did not have any problems with string snags or slippy binds. The large diameter mixed with the 42 mm width creates a nice easy target to land whips and hops, but I found string rejections a bit challenging. The weight placement makes the Tempest spin fast and handle slack well, but like I said before, if you find yourself starting to tilt then its time to bind and re-throw. It is possible to straighten out without bailing but watch will need to watch your spin time.
Grinds were slightly funky. The catch zone rim walls create a trap that grabs the finger and arm on three sides. This kills spin time. You can grind with it, and the finish is feels soft enough to get some great grinds, but that trap brings unneeded friction and kills the grind much faster that it should. IRG's are much better. With the weight rings out, there is a nice IRG groove. I was able to pull a full 360 without tilt.
Final Thoughts:
Not bad, but not great. I don't think that a hard core player will be very pleased with some of the design decisions that went into the Tempest. Weight rings bring the tempest up to a mind boggling 73.6 grams and that step behind the rims are not very hand or grind friendly. I would like to see the bearing seat deeper, and the catch zone opened up about 2 mm to drop the dramatic rim step. That being said, the Tempest is a very fast play which could appeal to speed players. For $60, the Tempest is not a huge risk, but such a unique feel and design, I recommend play testing one first to make sure it meets your play style. I think the Tempest would appeal to yoyoers who look for full sized throws with the option of player (very) heavy.
Available at:
>> YoYoSam.com
Written by Chris "Dr. Yo-Yo" Allen who is still waiting for Fanny Packs and Pogs to make come backs…
---
---
---