---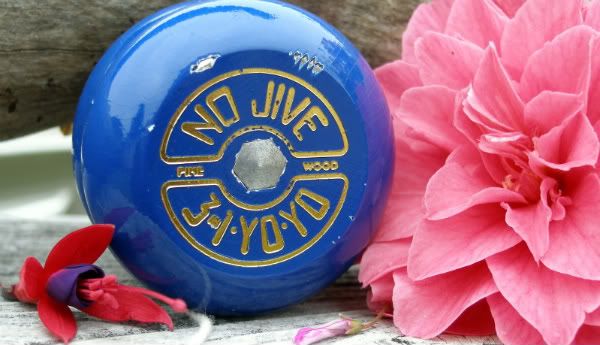 Introductions:
I am breaking my own rule and reviewing a yo-yo that is not in new/perfect condition. Its nostalgia week here at YoYoSkills, and I can think of no finer yo-yo to feature than the No Jive 3-1 by Tom Kuhn. Tom Kuhn is a Legend in the yo-yo world. He was the first one to create a ball bearing based yo-yo that worked (Silver Bullet II) and his wood yo-yos are considered by everyone to be the premium of what is available. One of Tom's crowning achievements is the No Jive 3-in-1. In 1976, Tom patented the take apart design of the No Jive 3-in-1, and released the worlds first reversible modular yo-yo shortly after. This was a huge evolution in yo-yo production and a landmark engineering achievement. This accomplishment is so important to the yo-yoing world, that in 1979, Tom rebuilt the No Jive into a 256 pound behemoth that stands at 4 feet (Currently at the Chico Yo-Yo Museum) and was yo-yo'ed using a crane. This made it the Worlds Largest functional take apart Yo-Yo! YoYoSkills is proud to present this review of the yo-yo that started the take apart revolution, the No Jive 3-in-1.
First Impressions:
I have had this yo-yo for a long time. I purchased it in 1998, played it non stop for a long while, and yes, it has some love marks. It also was autographed by Don "Captain Yo" Watson on one half back in 99, and If I ever meet Tom, I want him to hit up the other half. This is one of the only yo-yos that I consider a "Must Keep" and is one of my most prized possessions.
The No Jive comes in several different visual designs. Painted, raw, etched, engraved, the visual options are plentiful. The No Jive was packaged in both plastic and wood boxes at various times, and comes with a few strings and a few extra wood axles. Also included is an instruction booklet that humorously depicts what happens with you misuse the yo-yo. When looking at this yo-yo, you feel can feel the Jazzerzise, afro, bell bottom, lava lamp, pump shoe, slap bracelet goodness flowing back into you. I recommend dusting off a "Wind, Earth, Fire" 8 Track cassette (that is what was before CD's kids) and grabbing a head band. This yo-yo is all about the love.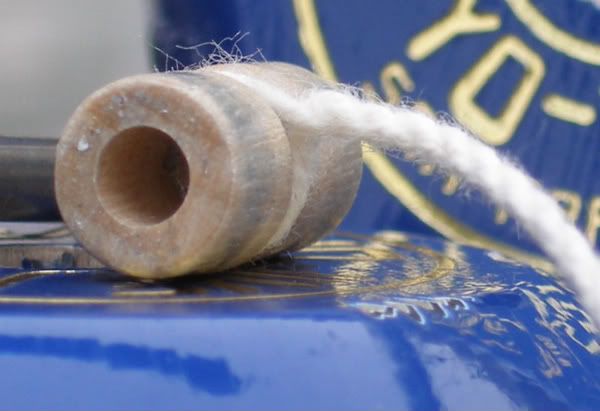 Comfort and Tech:
This is where the No Jive really shines. This is the only yo-yo on the market that as the ability to change from a looper to a butterfly shape. The brilliance of this is so simple it is almost silly that no one figured out how to do it back in the 50's when Duncan controlled the wood yo-yo market. The yo-yo is held together by a threaded axle and two hex nuts. If you have ever put together a Duncan Freehand without the caps, then you understand how the No Jive goes together. A wood sleeve fits tightly in the holes on each half. This gives you the ability to not only take apart the wood yo-yo to get knots out, (the bane of old wood Duncans) it also allows you to replace the wood axle. This is a necessity for frequent players. Over time your string will burn a groove into the axle. The worn in groove on the axle is something that can actually be desirable, since the rope burned wood is a smoother surface for sleeping tricks. This makes the yo-yo less responsive (but still tug responsive) making looping the No Jive slightly harder to loop with a broken in sleeve. The foresight in providing and offering replacement axles is one of the best features of the No Jive.
In your hand, the No Jive is comfortable and smooth. In "Mondial" form, it is slightly smaller then Yomega Raider, and in "Butterfly" form, it is about as the diameter similar to a Duncan FHZ and a width close to a M1 by OneDrop. In both formations, the No Jive is easy and comfortable to hold.
On a Throw:
Easily the smoothest wood yo-yo I have ever thrown. The design ensures that the axle is centered and straight. After the first throw, you get that nostalgic feeling that for many older yo-yoers, takes them back in time to their first wooden yo-yo, back when women had big hair and guys running shorts were way too high. It may seem obvious, but the No Jive is tug responsive and performs regen tricks very well. I recommend doing Regenerating Trapeze. Flick into trapeze, pop off, regen back into trapeze, repeat, win. The No Jive is more fun than a wood yo-yo should be. Tricks that are second nature on a ball bearing yo-yo like Cold Fusion and Split the Atom are a real challenge on the No Jive.
As a looper, the No Jive is a little heavy, but still loops very well. The No Jive is made of hard maple, which gives it a consistent density and a durable design. When you hit the ground, the yo-yo may chip or dent, but you won't likely crack it in half. (Unless you "Ham'ma o' Thor" it)
Pagoda, which is the third shape the No Jive "3-in-1" can change to, takes a little getting used to but is a lot of fun. I am not sure what this shape is designed for, but it has a unique feel to it.
Now, if you are expecting a vibe and wobble free throw, or a grinding yo-yo from the No Jive, you are probably suffering from a Twinkie that had a 1986 expiration date. That being said, of the wood fixed axle yo-yo's on the market, the No Jive has the least vibe, and the least wobble. Most importantly, it is designed for what all yo-yos should be designed for, pure unmitigated fun.
Final Thoughts:
Have you ever pumped a bucks worth of quarters into an old PacMan machine just for the sake of enjoying video game roots? Do you drool at your neighbors cherry red 57 Chevy? Do you tout your Apple Newton in the faces of your iPhone owning friends? If the answer is yes, and you are a yo-yoer, then you need to own a No Jive. Going through your list of tricks on a wood yo-yo is a real thrill, and takes you back to when you first began yo-yoing. Don't you remember when hitting "Double or Nothing" was like winning the Olympics? ("MOM MOM MOM MOM, I DID IT!") This yo-yo is a must own, and a must play. I try to pull out the No Jive as often as I can. It always delivers, giving me the nostalgia driven warm fuzzies.
Tom Kuhn sells a version of the No Jive on his online store at his Web Store called the Flying Camel which has Laser Engraving on both sides of each half.
The wooden engraved look is also available at:
YoYoz.co.uk
YoYoGuy.com (out of stock as of June 1 2009)
YoYoCrazy.com
The No Jive 3-1, painted variety, is available for purchase at a few online stores but I was only able to find them in stock at:
Euro-Yo (Welcome Back Pete!)
Also available at Bird in Hand's Online Store
Written by Chris "Dr. Yo-Yo" Allen, who misses his slap bracelets and Hammer Pants
---
---
---