---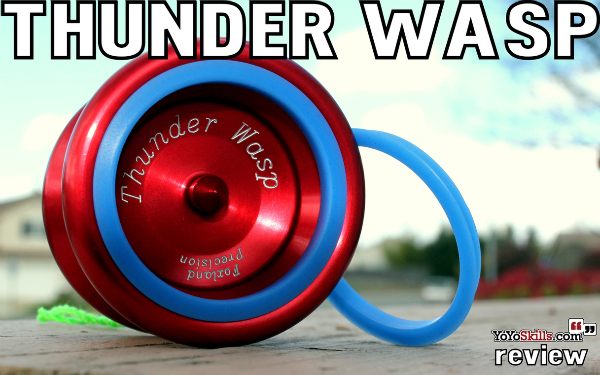 Why does everything sound better with the word "Thunder" in front of it? Is that your horse sir? NO, ITS MY THUNDER HORSE! I have a very low tolerance for cats, but Thundercats? HOOOOO. Who took down the Hulk the most times? Captain America? Iron Man? Reed Richards? No. Thunderbolt Ross. Do you think Ross from "Friends" could have done that? No, Hulk would have smashed him into snarky slightly confused monkey owning Rachel pining paste. Thunder makes everything sound better. Thunderbird, thunderclap, God of Thunder, thunder thighs (well not that one), Thunder Valley. Foxland Precision's new yo-yo is the Thunder Wasp. Will it live up to the Thunder namesake? I don't know, but this opening paragraph has changed my inner monolog to sound like the Epic Voice Guy.

First Impressions:

Foxland Precision has released nearly half a dozen yoyos over the last few years and on every release they include some extras. Here, Foxland Precision has included a spare bearing and string. The Thunder Wasp Alvin sent me was bright cherry red with blue weight rings. One thing that I like is that Alvin optioned for engraving rather than laser etching. While I would love to see a large wasp ridding a lightning bolt with arms in a "PIKACHUUUUU" pose, the engraving job is pretty clean and compliments the design nicely. It may just be the awesome name mixed with the subdued labeling, but it seems like it is kicked back and saying "Yeah, I'm a Thunder Wasp warlock with tiger blood, duh."
Comfort and Tech:
Width: 39 mm
Diameter: 52.3 mm
Gap Width: 3.7 mm or 4.7 mm
Bearing: 5 x 11 x 4 mm
Response: Silicone (pads can be provided)
Weight: 62.5 g
Additional 5 x 11 x 5 (D-size) bearing also included
The Thunder Wasp has a unique shape. The gap starts off as a v-shape but then has a lift. It is almost the opposite of the popular step gap yoyo design that is so common in todays releases. When the gap hits the lift, it changes to a curved gap shape. It is almost like someone took a v-shape yo-yo and a curved gap yo-yo, chopped it up, and mixed up the shapes. It looks a bit strange but the design feels great in the hand. At 39mm width and 52mm diameter, the rounded outer rims rest on the edges of the palm thumb pad. Your middle finger rests on the lift off of the wrapped string. This design places most of the weight at the lift in the middle of the gap and the outer rim. The weight rings are unique also. Most yoyos use some sort of rubber ring as an insert to fit under the IRG lip, but the Thunder Wasp uses a plastic rubber mix that snaps into place on the inner ring. They are easy to install and remove, and work better than any other removable weight ring I have yet to encountered. The rings sit evenly every time, does not get stretched out, and since they snap into place the weight is evenly distributed every time. As far as weight rings go, these are great.
Inside the response area is silicone groove that houses red silicone pads, but can handle flowable silicone as well. Alvin asked me to check and see if any other pads would fit it them and I am happy to report that in my basket of pads for small bearing yoyos, the General-Yo Pads fit. All in all, the design, bright colorway, adjustable weight, and small bearing should make a lot of yoyoers happy.
On a Throw:
I had enough time this review session to put in solid testing both with the rings and without. The rings themselves are 1.3 grams each bringing total weight to 62.5 grams, but it feels heavier than that. With the weight rings in the Thunder Wasp feels slow and sluggish, almost like it was playing on mute. It didn't play bad but just didn't stand out. I was a bit worried because without the rings, the Thunder Wasp falls just under 60 grams weight but I was inclined to try it anyway because I really wanted to like this design. Rings out, one throw, BEAST UNLEASHED. Honestly without the rings in place it is like the Thunder Wasp suddenly woke up, released from its captivity collars, and hungry for tether manipulation aptitude.
At 59.1 grams, the Thunder Wasp free from weight rings played fast and smooth. It was free from any vibration or wobble and moved through trick segments without hesitation. There was no falter on hops like many light yoyos suffer from. Without weight rings, the Thunder Wasp is a furious ball of energy that likes to be pushed fast through rolls and transfers. Thanks to the catch zone shape and design, the Thunder Wasp rejects strings like a champion eats Wheaties. Since the focus on the finish seemed to be centered on brightness, I did not expect the Thrunder Wasp to be much or a grinder and basically I was right. It will hit your skin and climb, which is fine if your looking to do an arm grind but makes grind stalls a bit more challenging.
Final Thoughts:
I am going to lay this out as bluntly as I possible can. If the weight rings were not removable, I would have declared this yo-yo a pass to anyone who does not like throws with a muted clunky feel. Emphasis on the IF there. Since the Thunder Wasp plays so phenomenally without the weight rings if you don't give it a try you are denying yourself a bucket of win joy. If you like light and fast yo-yos, this is a throw not to miss. The Thunder Wasp lives up to its thunder badge, and for $75 plus shipping it is more than reasonable.
>>
Foxland Precision Website
Written by Chris "Dr. Yo-Yo" Allen who harnesses lighting and thunder to cook his breakfast… THUNDER BACON!
---
---
---