---
Tom Kuhn is the "Father of Modern Yo-Yoing. His take apart design is used in every competitive yo-yo on the market today. He is a Pioneer, a Statesman, and quite possible, the most influential and important man in the yo-yo industry today.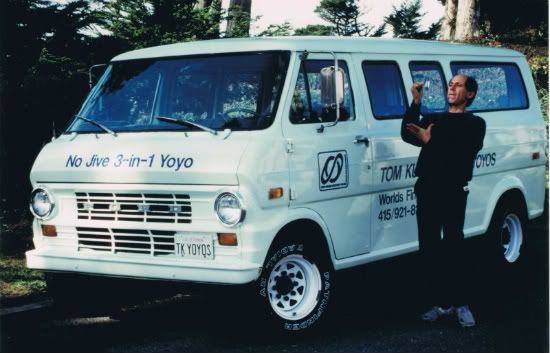 I recently did a review of the No Jive 3-in-1 which is without a doubt the best wooden yo-yo on the market. Today I have a surprise. Today, on June 6th, National Yo-Yo Day, I am happy to give the readers of YoYoSkills.com my yo-yo gift. My interview, with Tom Kuhn.
Chris: Thank you so much for speaking with me Tom. Let's start with the obvious. What first got you into yo-yoing?
Tom: I grew up in Detroit Michigan. When I was 12, we lived across the street from the playground of Louis Pasteur elementary school. My bedroom window faced the playground and I had a direct bead on the school yard happenings. One day a well groomed dude in a red blazer shows up – whipping a yo-yo around. Whoah what's this? I ran over and joined a few kids watching the action and was mesmerized by this sharp looking guy as he kept looping his little disk endlessly. He made it go around-the-world – backwards and end up in his pocket. He rocked and flipped the baby out of the cradle. He 'bit the dog' on his pants leg. He launched a rocket and caught it in his vest pocket.
Chris: I love it! A demonstrator in the Schoolyard inspired the Great Tom Kuhn. I take it you raced to the store to get one?
Tom: I jumped on my bike, rode to SS Kresge's 5 & 10 cent store, and there waiting for me, a stack of freshly lacquered wooden striped Duncan Yo-yos (you could smell 'em). Bought one for 65 cents or so and some extra strings. I started working non-stop on the trick list he passed out and entered the contest in the parking lot. At the end, the pro reached into his pocket and presented me (the winner) with a pearlescent white Duncan Jewel Yo-Yo, along with a winner's patch and a box of Bonomo's Turkish Taffy (of all things). "Spin it" he said.
Chris: Any idea who the demonstrator was?
Tom: Here is where the story becomes cosmic. Almost 30 years later when Tom Kuhn Yo-yos was celebrating its 10th year with a commemorative DIAMOND SPECIAL YO-YO, an out of town visitor happened to knock on the yo-yo workshop door, just as that first batch of diamond yo-yos arrived. As it turned out it was none other than the legendary yo-yo pro, Bob Rule. We soon determined it was he that ran that contest in Detroit ! After astonished laughter & back slaps, we open the box, and I present Bob with a pair of Yos. We stepped out into the afternoon sun on Ashbury Street , and it was Bob's turn to spin the jeweled yo-yo. We could hardly believe what just happened. Yo-Yo time became 'Stop Time', and the circle was completed.
Chris: The No Jive is an engineering masterpiece. What inspired you to create your own design?
Tom:Wooden yo-yos of my boyhood disappeared and were replaced by plastic ones. They didn't have the same feel and esthetic. A gift of rosewood yo-yo with a maple axle broke within a 1/2 hour of playing with it. Gluing the dowel back didn't work either. So I made some yo-yos for myself. I tried different woods, weights and string gaps. Eventually my favorite, a 50 gram maple yo-yo broke after the axle weakened from heavy play. This started my quest for a long lasting yo-yo that would have a replaceable axle. The No Jive 3-in-1 Yo-Yo was the result. Wood & Metal Ball bearing yo-yos followed later.
Chris: You're often credited as the Father of the modern yo-yo's. Did you have any idea that your modular design and Sticker response would so vastly change the industry?
Tom: I suspected that the long spin times would stimulate gifted players to re-invent the sport. But also felt that a beautiful wooden yo-yo would always have appeal. The unheard of price of a $14 dollar No Jive in 1978 and $100 for the SB2 in 1990 got others very busy with their own designs.
Chris: Let's talk about the Worlds Biggest yo-yo. What led to this creation?
Tom: The No Jive 3-in-1 Yo-Yo was something truly new in yo-yos and we wanted to celebrate its introduction. We had the idea to make an exact scaled up giant replica. A 256 lb, 50 inch high yo-yo was created that has been launched numerous times from giant cranes. It made it into the 1981 Guinness Book.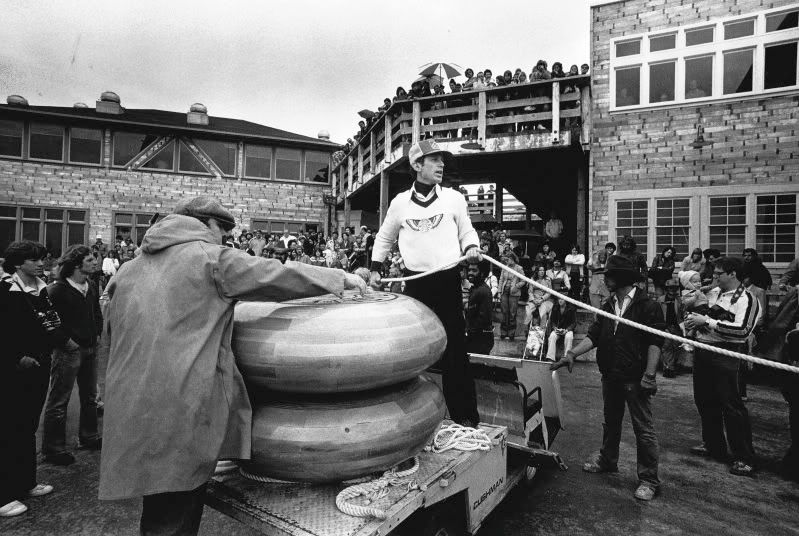 Chris: I heard that the first test did not go so well…
Tom: Actually the first "secret" test went very well. It was a subsequent launch off of the back of Pier 39 in San Francisco where we had an unexpected fast spinner burn through the 3/4 inch dacron rope and splash into the Bay. It was retrieved, dried off, and this time we tied the string to the axle rather than looping it so it couldn't sleep. This time it went up and down majestically to the cheers of the crowd.
Chris: What would you say was your defining moment in your yo-yo life?
Tom: There are so very many. Perhaps. . . Getting a call during dinner one night from an Astronaut at the Johnson Space Center, who wondered if I might be able to come to Houston the following week to tutor him on Yo-Yoing in Space. Okay! I'll be there.
Chris: As a huge NASA Fan myself, I have to ask, what was it like teaching an Astronaut how to yo-yo so he could perform tests in space.
Tom: Exciting and Fun. We were given a terrific tour of the space center. Spent time in the astronaut's office where we met many of them. Then he took me into a 1G simulator where we practiced some moves that the astronaut would try in orbit. Another astronaut that was there as well would later take an SB2 yo-yo into space on another flight.
Chris: What about Tommy Smothers? I heard that he is the one who gave you your "Dr. Yo" name.
Tom: During a dental day in 1985, Tom Smothers called and said brother Dick had given him a No Jive Yo-Yo and he really liked it and wondered if we might get together for dinner that night. It was rainy, and as I crossed the street towards the restaurant, Tommy was standing there yo-yoing. We approached each other doing loop the loop, before we even said hi. The following night I was introduced on stage at the Fairmont hotel as Dr YO – Tom's Yo-Yo guru and asked to do some tricks.
Chris: What style of play do you enjoy the most?  Has the evolution of tricks surprised you?
Tom: I enjoy playing but "very old school". Not a bind player (yet). The evolution of new tricks is absolutely amazing. Especially the style invented by my friend Mark McBride where 2 yo-yos are doing tricks independently. (3A)
Chris: Is there anything new on the horizon for Tom Kuhn Yo-Yos?

Tom: The FAT CAT is coming, along with the No Jive version 2, and other surprises soon.

Chris: You have seen, and created many changes to the industry. Where would you like to see the future of the industry go?
Tom: I'd like to see more, easy to use, esthetic yo-yos – that can re-validate basic fun play, while still offering cutting edge models for those that like to push the limits of the art. Seeing advanced techniques, some may be intimidated. ie: " I can't do all that fancy stuff, – yo-yoing is not for me." Yo-Yoing should not become too estoteric – even smooth up & down can be meditative and fun.
Chris: One last question Tom, and I have to ask….. As a Dentist, have you ever had to do repair work to someone who hurt themselves with one of your yo-yo's?
Tom: Not as of today.
—————————————————-
Thank you very much Tom.  You can look for annoucements about Tom's new yo-yos (NO JIVE 2 BABY!) on his website/store at www.TomKuhn.com.  I will also be announcing the news here and posting pictures as I get them.
Interview conducted by Chris "Dr. Yo-Yo" Allen, who is a total fanboy and shook like a leaf when he saw that Tom Kuhn returned his email.
---
---
---