---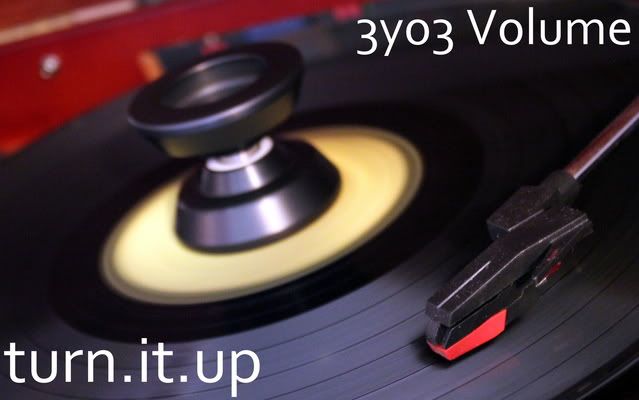 Turn it up. Lean in close. I have a secret I want to share with you. You ready? Are you sure? Here it comes…. *whispers* Landon Balk knows his stuff. OH YEAH, I said it. Landon Balk, 3yo3 running, hand yo-yo turning, Mello Yello drinking basket of pure yo-yo creation talent, knows exactly what he is doing. When it comes down to unique yo-yo creations that surpass all expectations, Landon is a master. Landon's latest indy creation is a delrin beauty called the Volume. Crank up your computer speakers to your favorite SteroMood.com channel, grab a frosty carbonated beverage, and join me as I run the 3yo3 Volume through the review gauntlet.

First Impression:

The Volume came to me in a non-descript package. I knew that Landon had sent me one to review but it arrived a bit sooner than I expected. The first thing that struck me as I dug the Volume out was the unique h-shape/ v shape hybrid gap. The gap actually inverts at one point. This unique shape and jet black delrin construction really gives the Volume a gorgeous look and catches the eye nicely. This yo-yo is going to raise eyebrows and will probably be one of the first yoyos your buddies will grab from your case to try.
Comfort and Tech:
• Diameter: 53.3 mm
• Width: 43 mm
• Gap: 4.05 mm
• Weight: 66.9 grams
• Response: Silicone Pads
• Bearing: Clean Dry Steel C-bearing
I absolutely positively must address the concave groove in the catch zone. This groove is a key part of the Volume design. It takes what should be a two step catch zone instead steps again and creates a deep groove. From the groove, the gap then steps steeply towards the gap and then turns softly to the response area. This design leaves us with a very open catch zone that still pushes string towards the gap. The C sized bearing sits on a pair of spacers similar to the ones you would find in a YoYoFactory Protostar. The Volume comes stock with thin white silicone pads but looks like it could accept Hatpads or flowable silicone.
The slanted rims fit nicely in your hand and at 43mm in width, hit the edges of the thumb pad nicely. At 53.3 mm in diameter, your ring and pointer finger rest evenly on the outer rims, and you middle finger has a good deal of room in the stepped profile. There is an element in the hold that may not sit well with some people, and that is the fact that your middle finger sits directly on the wrapped string. It is not that big of a deal in my opinion but I know that some people really don't like it when there middle finger rests on the wrapped string.
The delrin is very cleanly cut with no raw or rough edges. You can tell just by looking at it how much Landon put into hand turning every half. The surface area is very clean and slick but I get the impression that without a center surface channel, arm grinds are going to be difficult. The outer rims are pretty thick with puts a good majority of the weight towards the outside. There is a decently deep inner ring grind that cuts inward slightly, but it may take a little getting used to with how close it is to the center of the yo-yo.
On a Throw:
Momma can you hear me… If not, turn up the volume because this Volume is blasting away everything I can throw at it. The Volume is some of Landon's best work yet. The design has a great amount of rim weight that provides long spin times and stability. The Volume spun very smoothly on the string and came with zero vibe or wobble. The open catch zone design allowed the Volume to handle multiple string segments without snags. On the flip side though, there were times you really had to commit to a bind due to slight slippage.
The Volume has a feel that is hard to describe. It has a heavy personality which gives it a slow methodical feeling, but can handle fast transitions and rolls. If you push it to hard it holds its own, but can be hard to control on fast rolls. I also found that the catch zone did not reject the string in an open loop easily. That being said, the Volume mixed a great feel of solid play balanced with unbridled smoothness that rivaled some of most premium metals.
Grinds were better than I expected them to be. It too a bit of practice but once I trained myself to hit both rims at the same time the Volume performed very well in arm grinds. Inner ring grinds were no different. I found that with a smaller ring to thumb grind with, the faster the yo-yo turned. I was able to hit a 720 degree rotation and still have enough spin to bind back to the hand.
Final Thoughts:
In the words of Nigel Tufnel of Spinal Tap, "These go to eleven." The 3yo3 Volume is some of Landon's finest work yet, and the inverted section of the catch zone is extremely interesting. This yo-yo has refueled my excitement into delrin yoyos. If you dig delrin yoyo's, this is for you. If you USED to dig delrin yoyos, this will bring you back. If you like unique designs and shapes, this should already be in your collection. The Volume is designed to be played loud and with passion, so turn it up.
~$75
Available At:
Only at HighSpeedYoYo.com?
Written by Chris "Dr. Yo-Yo" Allen, who still doesn't get dubstep…. WHUB WHUB WHUB WHUB
---
---
---