---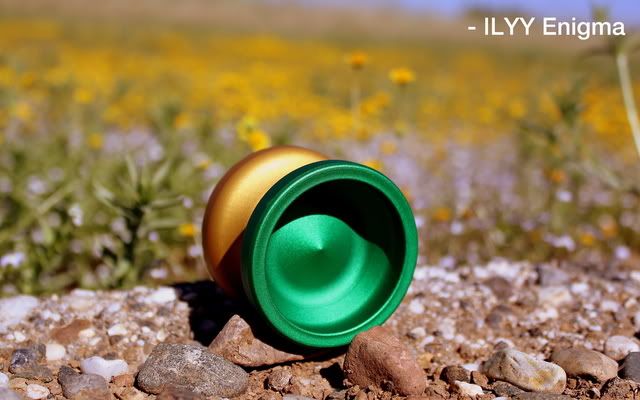 Last year I had the joy of putting the ILYY Enigma through the review paces. I loved the Enigma. It was a joy to throw and hold and had a precision level of float that really worked well with my play style. When Frank at ILYY contacted me recently about the new Enigma, I don't think I could have agreed to review it faster. Are you kidding me? You took one of my favorite throws and made it better? How could I say no even if I wanted to?
Note: I highly recommend a cursory review of the original Enigma review so when I talk about the differences, you can follow along.

First Impressions:

ILYY is constantly creating incredible yo-yos that push the definitions of smoothness and playability. They are simply Germany's premium yo-yo design studio. It has come to the point that I simply trust ILYY to make good products. This is a tall order to live up to because the bar ILYY has set for itself is so high.
The 2011 Enigma comes packaged the exact same way as the rest if the ILYY line. ILYY has recently revealed that they will start laser engraving their yo-yos which is something I have been begging for. While I love the clean face and artistically blank features, I also know that as more and more ILYY designs are released, the harder it will be to remember which ones are which. The 2011 Enigma did not get that laser treatment but I am excited to know that it will be coming in the future.
I do however wish that the new Enigma had some laser engraving goodness because it looks so much like the original. With a gorgeously muted gold and emerald green colorway, the Enigma has a stronger visual pull than a bowl of fresh strawberries. There are a few key differences, but at a glance with strings wrapped they are nearly identical.
Comfort and Tech:
Old version
Diameter: 54.0 mm

Width: 40.8 mm

Weight: 68.5 grams

Bearing Size: ILYY Bearing (6 x 13 x 5 mm)

2011 version

Diameter: 54.10mm

Width: 40.9 mm

Weight: 67.0 grams

Bearing: ILYY KMK 5x11x5mm (D-Size)
The dead giveaway is of course the bearing. ILYY decided that they needed to give a bit more love to small bearing fans and designed the 2011 Enigma to run a D sized bearing. Even though I don't actively seek out small bearing yoyos, I applaud this design change. A D sized bearing is much easier to replace than the standard ILYY bearing and there are a large amount of small bearing faithful that would love a premium performer with a small bearing. In the bearing response section is ILYY signature bearing well, a silicone response groove, and a sloping corner leading up to the catch zone. The response area was maked off during finishing to endure that the string chewing Candyblast finish won't eat your strings.
Another slight change is the open width of the rims. ILYY tweaked the rim design just a bit giving you a slightly larger grinding surface thanks to a slightly tighter catch zone. The diameter is still a full sized 54mm and the width is a tenth of a millimeter wider. They didn't move around much but they did trim a few grams of fat and kept the critically acclaimed candyblast finish. Looking at the engineering of and precision behind this model, ILYY has so far hit the expectation bar at every point.
In your hand, the 2011 Enigma feels just as good as the original. It has a sift shape that compliments the natural curves found in the hand. The outer rim rest on the outer edges of your thumb pad and your ring and pointer fingers feel right at home on the outer rims. The curvy steps of the catch zone keep your middle finger a few hairs above where the yo-yo string wind ends. This yo-yo just screams German luxury.
On a Throw:
Two grams lighter. You would not expect two grams to make much a difference but it makes the new Enigma feel so much more mature and serious than the old version. That is hard to say because I loved the old version so much, but the new Enigma is just that good. The Enigma plays like a seasoned professional. It is completely reliable on transfers, flops, hops, and transitions. The curvy h-shaped catch zone projects rejections like it was on payroll, and the small bearing setup gives you a higher functional wall to manipulate the yo-yos tilt and angle. I would not go as far as to say the Enigma has a floaty personality, but it glides effortlessly through trick segments, letting you focus on the trick instead of the yo-yos stability. It feels like total trick immersion, free from distractions like spin feel and core stability. The small bearing response setup provides long spins, kink free string play, and tight deliberate binds. No vibe or wobble, but I would expect no less from ILYY.
I took a crack at the original Enigma because the shape did not feel up to supporting varying levels of grinds. It felt very close, but had small hang-ups that were unignorable. This time, ILYY did it right. They only changed it a tiny bit, cleared some weight, adjusted the radial on a corner or two and BAM, this thing grinds like it holds a Masters Degree in ArmGrindology. The finish is porous enough to climb but a slight change in arm movement allows you to stall it out and amaze onlookers.
Final Thoughts:
Have you ever experienced the joy of suddenly running into an old friend? Someone who you enjoyed the company of and never intended lose contact with? That feeling that accompanies this type of event is the feeling I had after my first few throws with the new Enigma. It was familiar, yet more solid a mature than my previous encounter. My skills and preferences have changed over the last year as well but the feeling this yo-yo sends up the string and the level of performance it commands is inspiring. The first day I threw the new Enigma for an extended period of time, I also had a show at a local elementary school. I had packed the previous night for the show and planned to use some my normal set, preferred for stability and visual appeal, but after playing the Enigma for the day I knew that this was the yo-yo I needed to use.
Nearly everything ILYY puts out is incredible and I have fall in love with their attention to quality and performance, but the new Enigma is really some of their finest work. If you liked the Enigma then you will probably like the new Enigma. If you are looking for a solid luxury model small bearing yo-yo, I would try the new ILYY Enigma.
I was not able to find the 2011 Enigma in stores.  If you know where they are in stock, please drop a comment below!
Written by Chris "Dr. Yo-Yo" Allen who has his PhD in ArmGrindology
---
---
---