---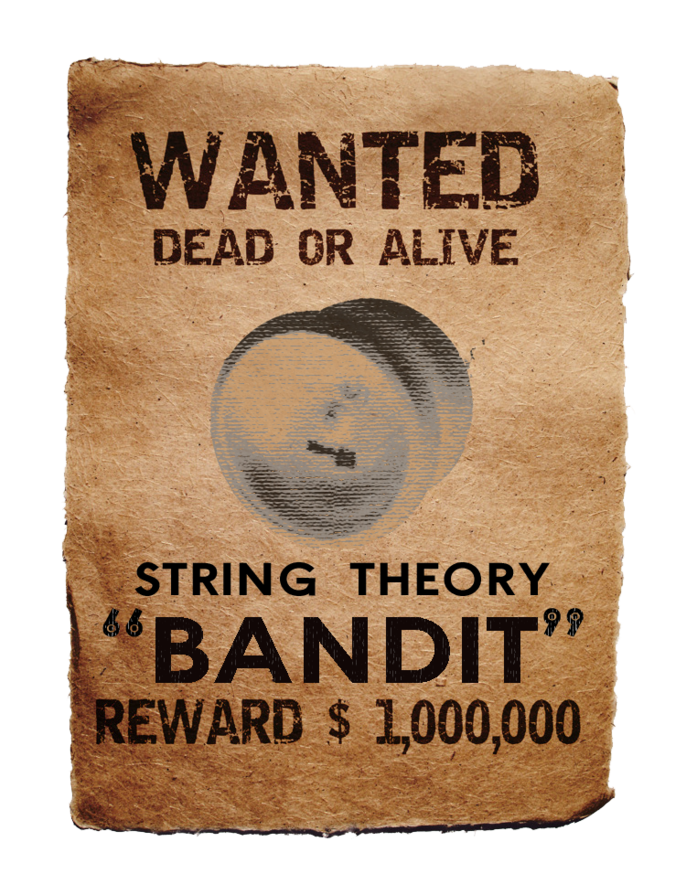 Space Cowboys. String Theory Yo-Yo's has specialized in unique designs and intense functionality. The last two yo-yos they released (Quark and Singularity) had space based names and with a new yo-yo called the Bandit, all I could think about were space cowboys. Space cowboys, electric violin solo's, and a Man called Janye. String Theory asked me to review the Bandit about a month ago and the day that it came in the mail with the R2, I could not help but try it out. A few throws to tease my curiosity made me say just one word:
"Shiny."
First Impressions:
Special thanks to Sportsmans Warehouse in Rocklin California for allowing me to use their inventory for these photographs
Right away you can tell that String Theory was having fun when they came up with the Bandit. The box was wrapped in a black bandanna with the String Theory logo in it. Inside the stickered cardboard box was a velvet pouch and another sticker. Inside the velvet pouch was the gun black Bandit complete with a Terrapin treated bearing and bead blasted finish. The yo-yo seems to avoid light. The blasted finish gives it a soft look that gives the yo-yo a shadowy look to it. The laser etching of an old west style pistol and the word Bandit is subtle yet visually striking.
Comfort and Tech:
• Specs:
• Weight: 70g
• Width: 42mm
• Diameter: 55mm
• Gap: 4.45mm
• Bearing: C size Terrapin Treated
This is definitely a new generation of design we are looking at. The Bandit may not look like a limit pushing boundary testing rule breaking character but once you get it into your hands I think your perspective will change. The Bandit features a large 55mm diameter and when combined with the modest 42mm width, the Bandit's modified classic profile is a bit intimidating. It hits the hand a bit rough due to the large size but after a bit you get used to it. The rounded rims hit both sides evenly. On the catch zone side the slope follows the cuts inward and shoots straight towards the response wall. The response area is shiny which shows that it was masked off during the beadblast.
In the response groove, the Bandit has red silicone. The groove looks about the same size as a standard o-ring so you would probably be able to fit a CBC or HatPad in there with no problems. The Bandit features a deep bearing well which should help minimize how often you need to clean the Terrapin treated bearing. I love Terrapin bearings. Whatever the magic voodoo juice they use on these things is, it makes the yo-yo silent and provides some of the longest spins I have seen in a new bearing. The bearing sits tightly on the bearing seat which should minimize unwanted vibration. While the bearing is snugly in place, it is not impossible to remove.
On a Throw:
Remember when I said this yo-yo looked intimidating? Well it is intimidating. 70 grams intimidating. I am not saying that this is a bad thing but this yo-yo lets you know exactly where it is and exactly how it feels about the tricks you are throwing at it. Honestly, the Bandit was a bit of a challenge for me. 70 grams is outside of my comfort zone and I felt clumsy with the Bandit. It is a very stable throw but does not respond kindly to a mistake on your part. Some throws are forgiving, the Bandit is not.
Once you become used to the shape, weight, and personality, the Bandit is a great throw. It handles hops well, it sells string rejections like a snake oil salesman, and is very smooth and stable. The beadblast finish is great for grinds and even on an extended arm grind does not sacrifice much spin time. You will have enough to bind cleanly. It handles hops well and while it feels heavy and dominating on the string, it can move pretty quickly also.
Final Thoughts:
I think I would be in love with this thing if it was a few grams lighter. If STYY shaved the outer rims a bit to bring down the diameter, it would free up some weight which would allow the Bandit to fall into my personal preference range. That being said, I know plenty of people who like heavy dominating throws. I think it is great that STYY is working with Terrapin and including the premium designer bearing. I have been a huge fan of Terrapin since they arrived on the scene. The engineering behind the Bandit is solid as is the hardware. It is a good design for people who like full sized throws on the heavy side.
~$110
YoYoNation – YoYoExpert – STYY Direct – YoYoz.Co.Uk – YoYoSam
Written by Chris "Dr. Yo-Yo" Allen who now needs to find a hand reflexologist somewhere on this side of the verse…
---
---
---