---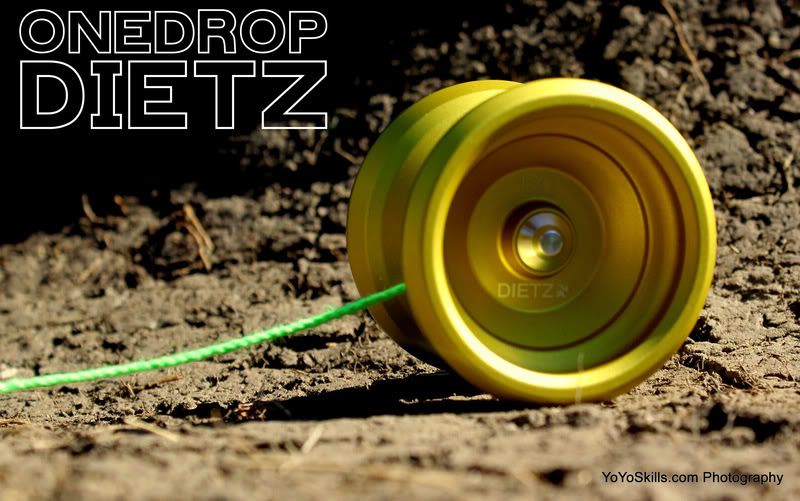 Ahh, OneDrop. Oh, how I have missed you. It has been a few months since I have reviewed a OneDrop yoyo. OneDrop is one of those companies that put unadulterated joy into their work and I always enjoy trying out their product. They have increased their output quite a bit since the days of the Project and M1. From what I understand, OneDrop is now running three machines and can still just barely meet demand. Lately, OneDrop has been turning their attention to more player models. While Mark Montgomery has two (three if you count the CLYW collab) signature yo-yos, there are a handful of other team members on the OneDrop team. First out of the gate in what looks to be a string of new player models is the OneDrop Dietz for OneDrop Contest Team member Daniel Dietz.

First Impressions:

OneDrop has long been the user of the two inch brown box. The Dietz is no different. The Dietz came packaged in a sticker adorned two inch brown. The Dietz logo is two capital D's facing each other. I think it is kind of funny, but the logo kind of looks like a yo-yo. The Dietz itself has a very clean look to it. The color OneDrop sent me is gold, which is just a few of the color options available. It looks like OneDrop designed special Side Effects for the Dietz.
Comfort and Tech: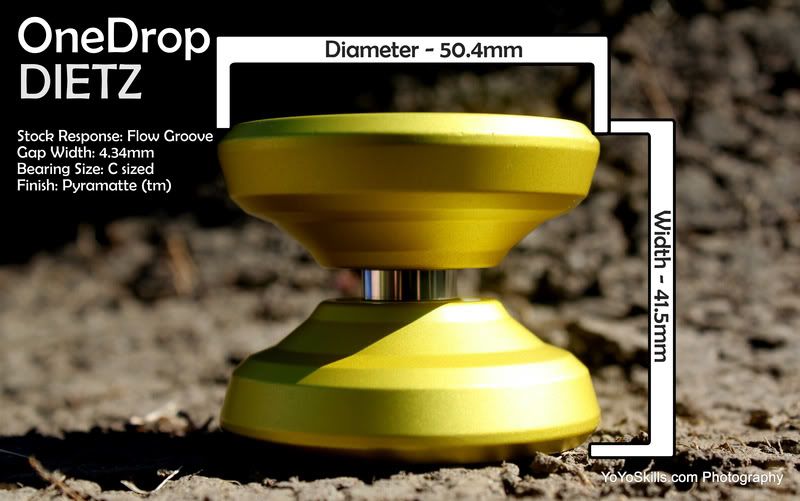 Specs:
Base Weight (two halves, response pad, bearing): 59.9 grams
Weight with aluminum Dietz Side Effects: 62.96 grams
Width: 41.5mm
Diameter: 50.4mm
Stock Response: Flow Groove
Gap Width: 4.34mm
Bearing Size: Large (C) stainless steel (One Drop 10 Ball Bearing)
Finish: Pyramatte ™
The Dietz is all straight lines. From the outer ridge to the gap, the Dietz has eight soft corners and one rounded curve that moves into the response area. While there are no curves except for the last one into the response area, all the corners are softly rounded for maximum comfort. The lines are arranged in a way that provides an open gapped H-Shape. In your hand, the Dietz fits your hand like a leather glove. The 50.4 mm diameter is easy to get a hold of and the 41.5 mm width places the rims at the outer edges of your thumb pad.
The side effects that came with the Dietz weigh in at approximately 1 and a half grams each. The remainder of the nearly 63 grams is spread out over the mid and edge sections of h-shape. With the side effects currently available from OneDrop, the Dietz could be all over the 60mm spectrum. Personally, I have always loved the 64-66 gram weight spectrum so at almost 63 grams, the Dietz with the stock is almost there for me. Inside the cup of the side, there is an inner ring groove that carved out. This lip looks perfect for IRG's.
The finish is really something else. I have always been an outspoken fan of the soda blast finish and in the past, the Pyramatte finish has been kinda hit and miss with me but on the Dietz, it has a great softness that slips through your fingers.
Inside the response area the Dietz has a silicone flow groove that comes stock with OneDrop's silicone stickers. I have had a lot of experience with these pads and this setup and can say without any hesitation that these pads will last you quite a while. The Dietz comes with a 10 ball C sized bearing.
On a Throw:
I don't know what is in the coffee up there at the OneDrop warehouse but they need to keep it up because this yo-yo is a ball full of unbridled energy. The Dietz is not only nimble and quick, incredible smooth and precise. It is like a hummingbird, hanging there a second only to dart off to the next flower. I found the Dietz extremely well balanced and responsive to manual tilts. The yo-yo did well on gyro's and regenerations with little to no feedback. Working the Dietz through the paces was almost too easy. I felt like I was using a cheat code. The lighter weight meant a slightly heavier dependence on a hard clean throw but once you found your rhythm the yo-yo stepped through long combinations and a train of transfers while still offering a snappy bind. The only issue I could find in the Dietz was that it gives the impression of a heavier yo-yo which led me to pulling harder than I needed to and overcompensating on landings. This of course, is something that faded with more use and obviously an issue with me and not the yo-yo.
This is the part of the review that I like to bring up grinds. The h-shape and I have fought hard and long over grinds. I like a yo-yo to transfer evenly from hand to arm and still have enough spin to climb my arm. Most h-shape yoyos trap your finger and the transition to your arm is rough because when the yo-yo hits your knuckle it tends to drift away from your planned path. The Dietz has all of those straight lines in the gap for a reason. I found the transition from finger to hand , over the wrist and up the arm, very easy to control. The grind was smooth and free from vibration or wobble. The Pyramatte finish glided eloquently on my arm and I was able to pull off a few climb/stall/climb grind combinations.
Final Thoughts:
Rumor has it that this yo-yo was originally not going to be a signature model for Daniel Dietz, but instead a stand alone release. I would be willing to bet that once Daniel tried it, the yo-yo was renamed and became his signature yo-yo. I don't have any facts to back this up but if I was working on a signature yo-yo and was handed the Dietz, I think I would want it as my signature yo-yo also. This yo-yo is a game changer. For the longest time my favorite yo-yo from OneDrop was the Project and all others fell short. The Dietz comes very very close to unseating the OG Project as my personal favorite OneDrop. If I didn't have an irrational emotional attachment to my Hulkamania (Sunrise) Project, it might have done just that. The flexibility, playability, and sheer performance the Dietz offers is worth well over the suggested retail price of $90.
~$90 in a variety of colors from most online yo-yo retail outlets
Written by Chris "Dr. Yo-Yo" Allen, who like to play the Hulkamania Project and call everyone brother, while planning how to hit you with a steel chair.
Edited by Dustin "Splugen" Gunter, who doesn't know what he's going to do when Hulkamania comes to his town.

---
---
---