---

I think Alex Val really just likes to run things over. First X-Cubed released the Steamroller, and now the Stampede. I can see Alex as a child, a little French boy running around, running his toy trucks over random things, then running his toy trucks over with bigger toy trucks, and then running over the small trucks and big trucks with his father's trucks. Then exploding the trucks in a monster truck rally marathon. Then running over the stadium with a giant robot powered by insulin….. He just likes to run over things. Having narrowly avoided the deadly assassin Alex sent to me last time (Steamroller), I was curious to see what sort yo-yo the Stampede would be.

First Impressions:

The first time I saw the Stampede was in Alex's video. It looked huge. I wasn't really surprised considering how wide the Steamroller is but this yo-yo looked quite a bit bigger. When the packaged arrived from Alex, and after my security team scanned it with the tricorder and I hit it with my sonic screwdriver to make sure it wasn't another assassin, I tore into it like a kid at Christmas. The Stampede is packaged in a large tube similar to how H-Spin used to package their yo-yos. The packaging is very nice. There is a standard warning on the back about how the yo-yo is not a toy and could destroy the fabric of space time, and then a link to tutorials. Inside the tube along with the yo-yo is a spare set of thick green silicone response pads and a X3 button that, well let's just say it doesn't hold back.
The yo-yo itself is quite a sight. The Stampede is huge. The full size is almost exaggerated by curvy shape. Each Stampede is numbered which is a feature I miss in premium yo-yo lines. On one half above the number is the X3 logo, and the other half has a laser engraving of what looks like a tri-notched circle. The last yo-yo I reviewed from X3 was raw and came wrapped in padding. This is quite a big improvement.
Comfort and Tech: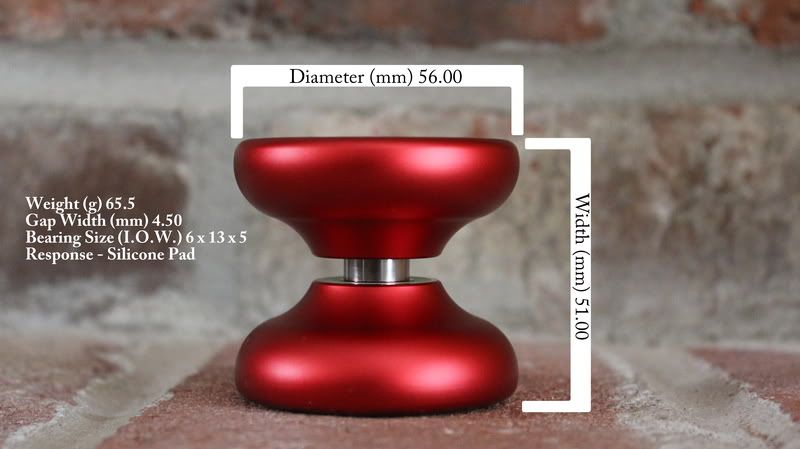 Weight (g) 65.50
Width (mm) 51.00
Diameter (mm) 56.00
Gap Width (mm) 4.50
Bearing Size (Inside x Outside x Width) 6 x 13 x 5
Despite the fact that the yo-yo is big enough it could double as my office door knob, it is quite comfortable in the hand. With a width of 51 mm, the Stampede is bigger than some of the 4a yoyos in my collection. It is wider than the Steamroller by quite a bit. When matched with the 56 mm diameter, I half expected the Stampede to weigh in over 70 grams but to my surprise, it is only 65 and a half grams. The catch zone is bell shaped with an inverse swoop. The shape swoops into a flat slanted edge which steps into the response area. The response system used by X3 is a deep groove that could take flowable silicone. X3 includes a spare pair of pads and the pads seem to be pretty durable.
The bearing used by X3 is the less common Size L (6 x 13 x 5) bearing size. This size is used by ILYY and on the some of the Oxy yoyos. Opening the Stampede to get a look at the bearing assembly was like trying to open a pickle jar. The bearing seat was a very tight fit. A bit too tight if you ask me. I understand that a tight bearing fit is good for a vibration free spin but the Stampede was so tight it scratched the anno off the bearing post and I was unable to remove the bearing without ultimately destroyed the bearing. Luckily, I had a spare Size L bearing. Strangely, the new bearing sat snugly on the bearing seat but still tight enough to provide a vibration free spin. I tested the removability of the old bearing and confirmed that the new bearing was indeed easier to remove. I think that X3 was given a batch of bearings with a slightly tighter inner race. I can't see anyone intentionally setting a seat so tight it is nearly impossible to remove the bearing.
The inside cup of the yo-yo has a deep and rounded inner ring groove. Since there is no horn, the cup is wide open and you should not have any problems landing a inner ring grind. The weight distribution on the Stampede seems to be divided between the core, rim, and inner cup step.
On a Throw:
What a rush. The Stampede is heavy and fast on the string yet moves with a type of grace you would expect from a floaty throw. It took a bit of altering my throw style to get a clean throw but once I did the Stampede was vibration free and It reminds me that scene from Fantasia with the hippo in a tutu doing ballet. Don't be fooled by the eye oogling specs, this yo-yo plays like a dainty flower with rainbow sparkles.
The obvious strength of the Stampede is the open catch zone and progressive weight placement. The Stampede was very easy to land and maneuver through trick segments. The long spin time provided plenty of combo time and the Stampede worked well on regens. The yo-yo was also very strong in the stability spectrum, and did not suffer from tilting as some ultra wide yo-yos do. I found that the Stampede was also very good for vertax tricks. I don't have much in my arsenal, but the Stampede was certainly willing to let me fumble my way through a banana turnover and a few mounts.
Grinds were where the Stampede turned things up to 11. I was worried that the shape would work against arm grinds but what I found was the exact opposite. The Stampede moved gracefully up my arm, popped off my elbow, and had enough spin to combo into another string of tricks.
Final Thoughts:
Unicorn tears, rainbows, glow in the dark puppies, Don Knotts, hover shoes. This is the category that the Stampede belongs in. Tight bearing seat aside, the Stampede is beautifully engineered and wonderfully crafted yo-yo that plays like a dream. The packaging is very professional and adds to the first impression experience. The color selection is perfect for a flagship yo-yo and lastly, it performs exactly like you expect a premium yo-yo to. I have heard a few people complain about the tight bearing seat but not a lot of people so I think it is possible that some cracks fell through production checks. I recommend the Stampede. It has a different feel on play than you may expect, and I think you will be pleasantly surprised.
~$129 Available at online yo-yo outlets everywhere.
Written by Chris "Dr. Yo-Yo" Allen, who has a tattoo of Don Knotts wearing hover shoes fighting Wilfred Brimley's army of evil insulibots.
Edited by Dustin "Splugen" Gunter, who is still trying to figure what category Chris is talking about back there. WHAT.
---
---
---