---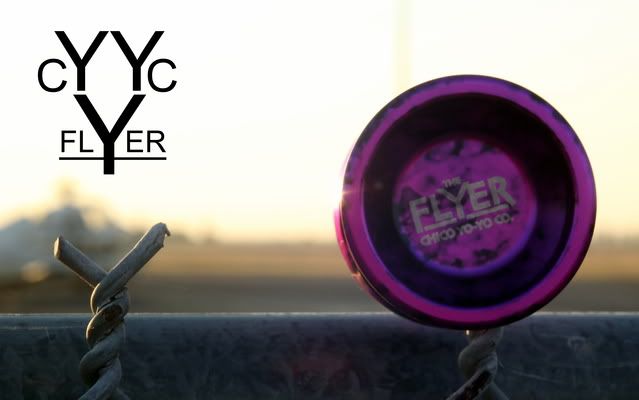 When I was a kid, I used to get really weird and scary dreams about movies. The weird part is that these movies were not the type that would normally scare someone. A perfect example was Flight of the Navigator. That movie scarred the bejebus out of me. Kid plays in woods, falls down, wakes up 8 years later and finds out he was actually abducted by aliens who sound like PeeWee Herman. This is the stuff of nightmares. Or Neverending Story, when the kid has to walk in between giant SheSpinxes statues who determine if the traveler is able to "feel his own worth". Most ridiculously, the movie The Wiz had a scene in the Yellow Brick Subway with a crazy puppeteer, demented trash can monsters that would piranha frenzy you and then there are the column monsters… The freaking subway support columns broke away from the mountings and chase you down, live wire sparks and all. To this day that scene from the Wiz haunts me.
For my birthday last August, my good friends at Chico Yo-Yo Company gave me a brand spanking new Flyer. I had played the proto up in Chico a few months prior and remembered likening it. That night I had a dream that was most likely the combination of exhaustion, too many burgers, and the second slice of cake. I was testing the Flyer, but every time I went to throw, something went wrong. The phone rang, a knock at the door, my daughter crying for help, the power going out, the Flyer bearing teach and biting me. At one point I was convinced that my hands were missing. It was an anxiety cluster dream that woke me up in a cold sweat. 2am, I walk into my home office, take the Flyer off my "To be Reviewed" shelf and give it a throw. I had to make sure. Ever since, the Flyer has made me sweat just a bit everytime I look at it.

First Impressions:

I remember sitting in the back room at Bird in Hand with Bob, Thad, and Richy. Richy was on the way to the anodizer and needed a choice on color for their line. CYYC commonly do multiple lines in the same colorway and this was the batch that included the flyer prototype run. I suggested some bright colors like pink or green. A lot of CYYC yoyos are dark and I thought they could use a brighter color option. I think Bob suggested purple. I remember thinking to myself that purple would be too dark. I was wrong.
The first run on the Flyer is a very shiny, very bright purple with a black swirl finish. If I had to summarize the colorway with two words, it would be "Grape Soda". There is a black haze in the yo-yo that really makes the purple color pop and catch the light. Chico Yo-Yo Company packages the Flyer in a stickered brown box. The yo-yo itself has an easy to read laser engraving on it and has just the right combination of corners and curves to make it easy on the eyes.
Comfort and Tech:
Weight (g) – 67.4
Diameter (mm) – 50.30
Width (mm) – 40.65
The Flyer is CYYC's budget yo-yo retailing for $75. When some people hear budget line, they think manufacturers cut corners, but there are a lot of great budget yoyos out there. The ILYY Void and OneDrop Café Racer are both prime examples of great yoyos that are in the budget price range. The Flyer is no exception. The Chico Flyer does not look or feel like a budget yo-yo.
A flat edge covers half of the outer rim before gently turning down about fifteen degrees. The slant then quickly drops over a hard corner and steps to a straight wall angled to the gap before turning into the flat wall of the response area. CYYC uses a standard response setup. The response groove is the same as other brands and a deep bearing seat well and a lightly lubed C-Sized bearing. I swapped out the bearing for the purpose of the review because I prefer dry bearings.
The shape of the Flyer fits nicely in your hand without any hard corners to press against your palm. The specs place the flyer in the slightly undersized category. Inside the cup of the Flyer, CYYC designed a flat wall with no axle hub and a slight undercut under the outer rim. I have searched over and over this yo-yo and can't see any corners cut. It is a good feel in your hand, it has a killer colorway, a sharp laser engraving, and a really solid feel.
On a Throw:
This isn't a budget throw. I can't accept that. It is too good. it.is.just.too.flippin.good. The CYYC Flyer is smooth on a spin, has a fast and light feel to it, and has a hard to match stability. I love regen tricks and found that the Flyer was not only stable on regens, but down right rock solid. The strong weight placement gave the Flyer a very fast and light feel despite its 67 grams girth. 67 grams is my personal sweet spot on yoyo weight, so the Flyer felt like a natural extension of me.
I found the catch zone a solid and easy target to hit with whips and landings, and the step rejected strings exceptionally well. The Flyer performed well on gryos and held well against multiple string wraps. The yo-yo did not snag on reverse spin combo's but provided tight binds every single time. This yo-yo is amazing.
Final Thoughts:
First things first, this yo-yo should not be a budget yo-yo. The playability and performance of the Flyer is that of a luxury premium yo-yo and has a great look to match. The week I played it, I could not put it down. I found myself playing it more than I normally play a review unit. It is haunting me. It is just that good. I don't know how I can say it more than just that. I am good friends with the Chico Yo-Yo Guys but I am trying to be unbiased here when I say, this is the best yo-yo CYYC has released thus far. I don't care if it haunts my dreams any more, it plays like a dream and that is worth it to me.
Amazing throw. Amazing value.
~$75
Written by Chris " Dr. Yo-Yo" Allen who onc…….. wait, did that wall just move?

---
---
---