---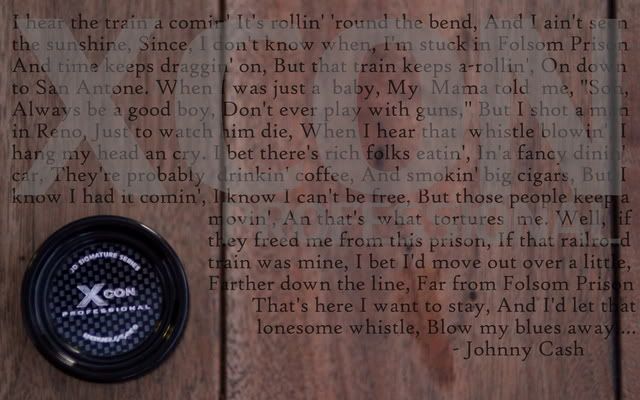 I miss seeing Johnnie Delvalle compete. He had a true "showman" quality that is not seen enough on the tourney scene. Johnnie is not a stereotypical yoyoer. By my own observation, most yoyoers are malnutrition skinny or "pleasantly plump". I fall into the latter. Of course there are exceptions, and if your reading this and thinking, "NO I AM NOT" than you are either in denial or one of the rare exceptions.  Johnnie is an exception. JD is in shape, has a clean cut look, and most importantly, he knows this. This is why it is fun to see him compete. Case in point, JD's videos promoting the X-Convict back in 2004. JD is rocking pro wrestler style pythons and wearing a muscle shirt. In 2003 he started his winning Worlds 1a freestyle by taking off his button up. Girls screamed.  There were not many girls there, but other girls ran into the room and screamed, then realized it was a yoyo competition and left. That was a few years ago back when the X-Convict was first released, but JD still looks like he could punch his way into a bank vault. JD now has a new business to run and in with that, a professional edition of this signature throw. The X-Con Professional.

First Impressions:
 

 
The Carbon Fiber caps on this yo-yo really makes it stand out. On the back side of the plastic caps, YoYoJam used what looks like a Carbon Fiber(esque) pattern which makes the foil stamped type really stand out. It gives the X-Con Professional a very mature and sleek look. The X-Con that JD sent me for review is black with aluminum weight rings. From what I have seen, the X-Con Pro also comes in a slightly translucent red. From a visual standpoint, the X-Con Pro has a great look. It is packaged in the standard green YoYoJam box (which might be changing?) and comes with both the thin responsive bearing and the standard YoYoJam Speed Bearing.
 
Comfort and Tech:
Weight (g) 66.8
Diameter (mm) 50.80
Width (mm) 39.40
 
The X-Con Pro follows the new YoYoJam trend of placing the weight at the center of the yo-yo half.  I have been loving this design detail by the way.  YoYoJam has found a way to pull as much weight as possible from the core and the rims and place it at a spot where it is both most stable and most easily manipulated.  The X-Con Pro uses YoYoJam's Solid Spin axle which combines the bearing seat and axle.  The yoyo comes with both a thin bearing and YoYoJam's Speed Bearing (C-Sized).  When looking at the catch zone, the weight ring creates a small rise in the catch zone curve.  A few millimeters before the response groove, the catch zone flattens out.  YoYoJam uses a standard size response groove that accepts what has become the industry standard for response setups.  The                                  X-Con Pro is quite a bit smaller than the original X-Con.  Both the X-Con and X-Convict were in the 53-54 mm diameter family while the X-Con Pro is 50mm.  The width has not dramatically changed (stayed around 40mm) , and the weight is pretty much the same also at 66 grams.  YoYoJam effectively shrunk the outer diameter of the X-Con and moved the weight around.
The X-Con is also free from the corners its predecessor had on the outer rim.  The plastic rim hits the hand well without a wince.  When you factor in the new shape, ring placement, and axle system, the X-Con Professional is quite a bit different than the legacy X-Con that YoYoJam made for JD all those years ago. 
 
On a Throw:
Madness.  Complete and utter madness.  When the X-Con Professional arrived from YoYoJam, I played it for a few minutes before placing it on my "To Be Reviewed: Shelf of Solicitous."  I was floored.  It was a week before Nationals and I remember pulling JD aside and telling him that the X-Con professional was the best YoYoJam thus far.  After playing it for two weeks (high five for holiday weeks) I have to say that I still feel that way.  The X-Con Professional is stable, fast, and well easy to manipulate.  The yo-yo gyros like a champ but won't tilt out on long follow combos.  With the speed bearing in place, the X-Con Pro manages multiple string wraps and kinks without snagging and provides tight clean binds.  This yo-yo excelled especially well with regens, and was the first yo-yo I had successfully pulled off a "behind the back regen" combo without ending up off axis.  The Solid Spin axle provides a clean and vibration free spin. 
 
Final Thoughts:
Pretty much my favorite YoYoJam yo-yo… ever.  I have my fair share of YoYoJams in my collection and frequently recommend them to friends who are just starting to yo-yo, but I think that this yo-yo beats out even the much loved Phenom.  The only thing I would change/add is a anodized finish to the weight rings. YoYoJam has created a great looking yo-yo, with killer side caps and a smooth reliable play.  It is a must have if you like the YoYoJam brand, and a must try if you are looking for a good, inexpensive hybrid throw. 
 
~$50-60 
 
Written by Chris "Dr. Yo-Yo" Allen who once shot a man in Reno…. With a rubber band… well okay, not a man, a tree. 
 
---
---
---